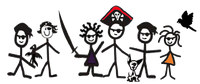 This page is a guide: Guides are essays that cover a specific topic in detail, in order to aid players to better grasp the topic. Guides may help you gain a better understanding of the game, but they are often written by a single editor, and the wiki offers no guarantee of their validity. Guides can be useful, but keep in mind that they may have a subjective point of view, or describe a specific approach to a subject which may not be the only solution.
To view all the guides on the wiki, please visit Category:Guides.
Will Scurvyrat's Guide to Fishing and Legendary Fishing
My name as you know is Will Scurvyrat, Expert Fisherman. I have caught every fish and legendary fish that the Caribbean has to hold and want to teach all of you, my tips and secrets to do the same!
1. Firstly fish until you master by going to a main dock on Padres del Fuego, Port Royal, or Tortuga and finding the best reputation giving fish capable of being caught.
2. When you get to level 10 and can rent a fishing boat, go on it and again, look for the best reputation giving fish capable of being caught until you get to level 20.
3. When you buy legendary lures, go to one of these possible locations depending on the legendary Fish you want. You do not need to be a mastered fisherman, that is a common myth created by the POTCO crew.
My method is the same method posted in the following video by gmjyuir2 and this method has caught me Mossy Moses, The Fogbell, and the Dreaded Fire Dragon!

4. Please note that you will probably find Speedy Lou and Glittering Girl First being as they are the most common, but don't give up!
5. Go around and make sure you got all the common fish.
| | |
| --- | --- |
| | Will Scurvyrat's Guide To Fishing and Legendary Fishing has caught all the Legendary Fish! |
Community content is available under
CC-BY-SA
unless otherwise noted.