Venom Lash is a massive Dread Scorpion Boss that stalks the shores of Rumrunner's Isle, sunning himself on the beach. He appears from levels 13-20, surrounded by other Dread Scorpions in his colony.
Venom Lash must be killed as part of the Pirate Blade Upgrade Quest. So, lower pirates should consider bringing a mate along to help.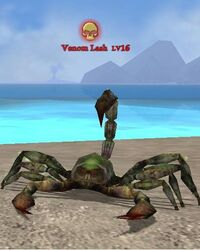 Game Notes
It is a good tactic to use a firearm against this creature to stay out of reach of his poisonous sting and crushing claws.
Venom Lash will respawn in the same location every time.
Location

Community content is available under
CC-BY-SA
unless otherwise noted.