Posted by Jenny Jigfiddle on Feb. 26, 2020, 10 p.m.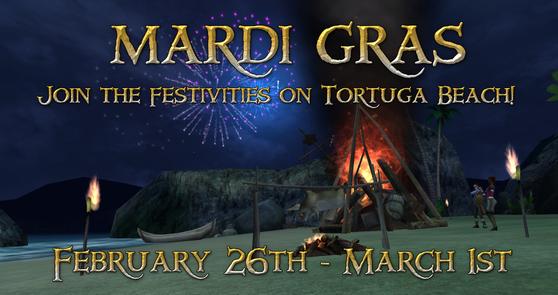 Ahoy, me hearties!
It be time for the annual carnival celebration. Some call it "Fat Tuesday," but the most of ye will know it simply as one of our favorite holidays, Mardi Gras!
Fireworks shall be blasting above yer heads safely launched from sea by our resident piratey pyromancers every hour on the hour during the thick of night.
The customary bonfire on the Tortuga beach has been stacked high and shall be lit and blazing away into the sky from 4PM Eastern until 10PM Eastern. Also, our resident caterers will be cooking some delicious and decadent roasted pork right on the spit and fire, and that pork be known in these waters to contain healing powers stronger than your typical run-of-the-mill tonic! Best stock up before it's all gone! Har har!
Davy Doubloon has posted notice once again, the Mardi Gras outfits will on sale for ye hearties to purchase. Sid and I have a long list of lovely tunes to play, just know music requests cost tis but a few gold doubloons! I be looking forward to seeing all ye dancing and jigging away to me tunes during this year's Mardi Gras!
See ye then,
- Jenny Jigfiddle​​​​​​​
Community content is available under
CC-BY-SA
unless otherwise noted.