Posted by Deaf Gunny and Anton Levy on Dec. 25, 2019, midnight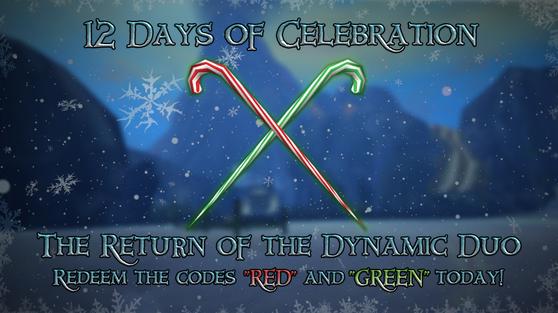 On the final day of Celebration the Brethren Court gave to you... Classic Candy Cane Weapons!
HAPPY HOLIDAYS TO YE ALL!
I'M SO EXCITED TO BE BRINGIN' YE GLAD TIDINGS FOR THIS HERE 12 DAYS OF CELEBRATION! I'M HOPIN' THE NEW WEAPONS ARE PLEASIN' TO YE. WE'VE GOT A LOT MORE FROM TH...
Sorry about that, folks. Deaf Gunny lost his hearing again after finding what he thought was a snowball. Thankfully he only tossed it at the Jolly Sandman outside his shop. Unfortunately, he were standin' too close... and... well... BOOM!
As he was sayin' we be bringin' you some good news from the Brethren Court. The Classic Candy Canes have returned! Green Candy Cane Sabre and Red Candy Cane Sabre are back for a limited time durin' this holiday event. Just make sure you have room in your weapon inventory before you redeem these here codes: GREEN and RED. Hurry and be gettin' your Classic Candy Canes before they disappear again on January 4th.
Oh, and be careful if you be findin' any of those 'snowballs' that Deaf Gunny found. We don't be needin' more deaf pirates running about.
Happy Holidays!
Community content is available under
CC-BY-SA
unless otherwise noted.