Posted by Jesse Tidus on Nov. 21, 2019, 8 p.m.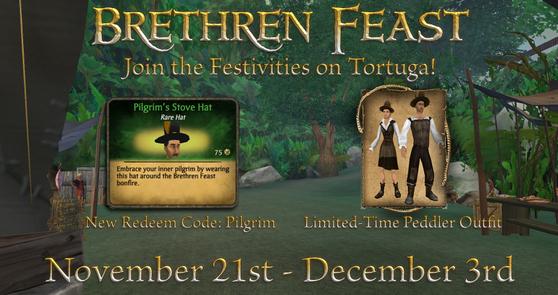 Greetings, my fellow comrade of the, ahem, freebooter profession. I, Jesse Tidus, have made port once more… to invite you to the Brethren Feast!
Aye, it is a euphoric celebration, indeed. Gather 'round the bonfire on the shores of Tortuga! Indulge in roast pork! Play music with musicians by the comforts of the fire! Simply enjoy yourself by participating in a bit of small talk… or perhaps rather large talk, if you fancy my breathtaking looks like the way I do yours, love. Bonfires light daily from 4 pm - 10 pm Eastern, so you may be able to sink a ship or two and still catch a taste of the fun.
Of course, do not attend this joyous occasion just so you may see me in the stunning flesh -- though I would not blame you if you did so. Instead, attend with the intent of celebrating our freedom as pirates! Our victories against that tyrant, Jolly Roger! Be thankful for your riches and your liberation from oppression! And for mates that remain by your side throughout troubled waters. Personally, I'd thank each and every one of you for being the best buccaneers these seas have laid their eyes on.
Hmm, still not feeling celebratory enough, eh? I find that a change of wardrobe can always adjust the mindset. I hear that the peddlers now have the Pilgrim Explorer outfit in stores, and a redeem code of "PILGRIM" may score you a fashionable hat, if you so fancy accessories for the head. As for myself, I prefer to keep my lush locks flowing free.
The celebration lasts from November 21st until December 3rd!

I shall see you by the fire, my love.
Jesse Tidus, Your Most Captivating Freebooter
Community content is available under
CC-BY-SA
unless otherwise noted.