Posted by Jesse Tidus on Dec. 31, 2019, midnight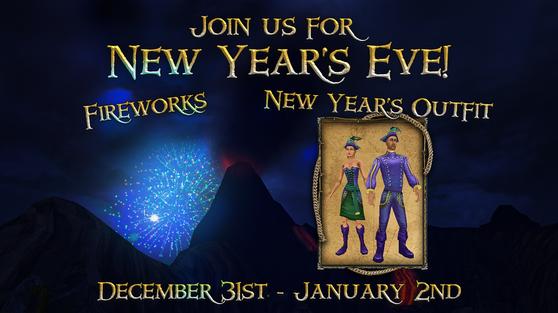 Ahoy, lads and lassies.
It has been quite some time, has it not? Must I reintroduce myself? Jesse Tidus here, once again making port to celebrate with my freebooting friends (and the pretty pirates).
Why, you ask? Because we are on the verge of entering a new year, mateys. And not just any new year: a new decade! Surely, a cause for celebration! Eat, drink, be merry, sink ships to your heart's content. There shall be fireworks on the horizon; would you like to come onboard my ship for a lovely night of gazing?
Ah, I see -- you are simply shy. Or, daresay, self-conscious of your (rather atrocious) garments? In that case, you're in luck, love. A special outfit for the new year is available for purchase.  And trust me: you'll look as pretty as a peacock. Go on, then-- dress yourself to the nines, and meet me back on the dock for a splendid night out. We shall make it your new year's resolution to attain a better wardrobe.
The fancy new garb, as well as the sparkles in the night sky, will only be around from December 31st - January 2nd. In other words, you have until next year to enjoy such festivities! Hahaha-- OW! You didn't have to hit me, dear... then again, Joan was not quite fond of that line, either. My, my, perhaps it is time to cross that one off the list...
Until next time, love.
Jesse Tidus, Your Most Captivating Freebooter
Community content is available under
CC-BY-SA
unless otherwise noted.