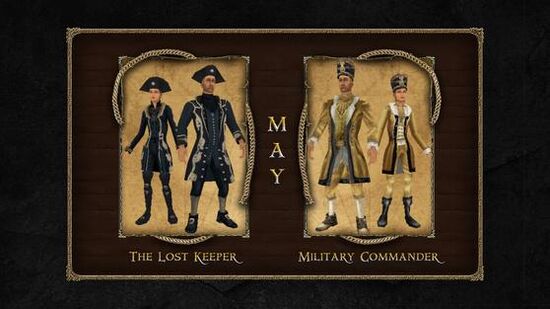 Posted by Monger Morton on May 3, 2022, 8 a.m.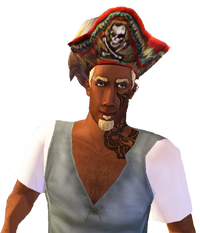 Oy! Pirate!
You wanna' look a bit more respectable? Then, you needs to see what um... washed ashore here this week.
All this month a' May, I've got this Military Commander outfit. Look at all them buttons, all that gold and those trimmin's. Talk about bein' a commandin' presence, eh? Those scurvy dogs in your crew will snap to attention when you get aboard wearin' this!
All right, maybe spit n' polish are not your thing, right?
Somethin' more subtle, dark... like The Lost Keeper. Still has buttons an' the trimmings, mind you but won't attract unneeded attention. You know them Keeper folks tend to work outside the light of day an' all.
Oh yeah, I also have an incoming shipment of the Wildfire outfits coming for Mother's Day, which is very soon I might add.
I know my stand bein' here on Cuba might be a bit of a haul for some pirates, so you could visit my fella' Peddlers on Port Royal, Tortuga, Padres or that new stand on Bilgewater.
Yes, I still have some leftovers from my April stock, but best hurry 'cause I'm sure they'll be gone by May 31st. And these new pieces a' garb will only be around until June 30th.
Til next time, then-
Monger Morton