Posted by Bargain Billy on May 5, 2021, 7 p.m.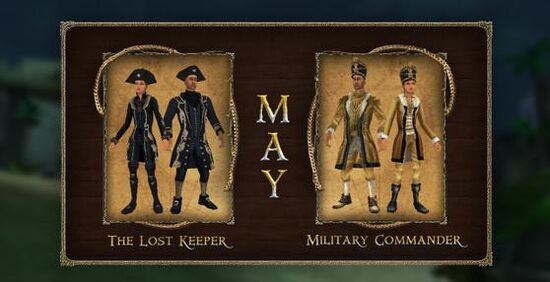 Avast! Thar be new peddlers afoot!
First, we have the perfect outfit for all those folks who like keeping things that be lost. If these meet your specifications for fine threads, then The Lost Keeper is for you!
Not one for admiral hats? Understandable, but hold it right thar! Our second offering of outfit be for those military enthusiasts who like marching up and down the square all up in their parade hats! If that's to yer liking, then The Military Commander is just right for you!
If you still want our April offerings, the French Privateer and the infamous Capt. Black, then ye got until May 31st to snag those threads into your inventories. Best keep a weathered eye out on the horizon as well for thar be a wild outfit that is sure to set the seas on fire coming in for Mother's Day, so best keep those purses heavy with coin when you make port to do your shore leave!
Community content is available under
CC-BY-SA
unless otherwise noted.