Posted by Davy Doubloon on March 6, 2020, noon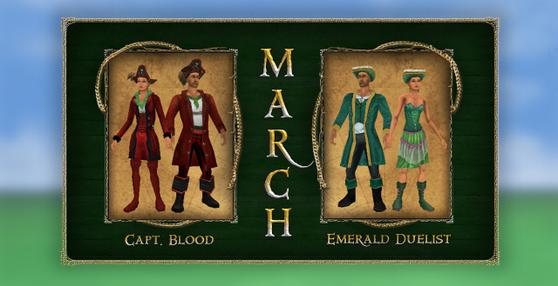 Another fine bright day here in th' Caribbean, mate! An' look at you in those drab an' dreary rags! Let ol' Davy Doubloon set you right!
This month, I happen to lay me hands on some most colorful finery. First, there be th' Emerald Duelist. Springtime greens with matchin' frilled hat and boots for gents and ladies alike! Maybe something a bit more threatenin'? Capt. Blood will bathe ye' in scarlet red from head to foot, includin' th' feathered buccaneer hat!
If flair ain't yer thing, mate. I still has some of th'  Pirate Stargazer an' Black Mutineer on hand til the end of the month. Only a short time left for you darkest of heart buccaneers.
Oh? What's that, ye want ta' celebrate th' wearin' of th' green for St. Patrick's Day? I has a very special outfit just for th' occasion, but take heed! Supplies be limited. I expect to run out around March 31st.
Community content is available under
CC-BY-SA
unless otherwise noted.