Posted by Monger Morton on March 1, 2021, 5 p.m.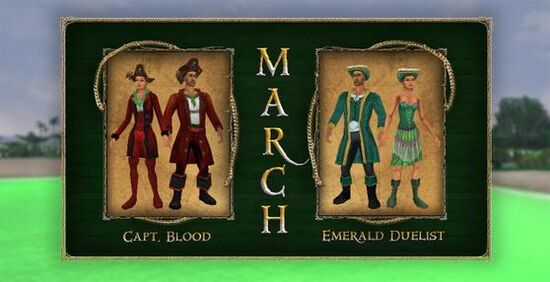 Greetings savvy swashbucklers,
March into March with some fan favorite threads that is sure to get people lookin'!
This month we've brought back the Capt. Blood and the Emerald Duelist outfits. What's more to ask for? One's red and one's green; speaking of green, the Emerald Duelist is sure to go nicely this March when St. Patrick's Day comes around later this month. Luck as it that when St. Patrick's Day comes around, that brings the St. Patrick's Day outfit as well. So best keep your eyes peeled for that.
In addition to these new offerings, we still have Feburary's Pirate Stargazer and Black Mutineer that are set to expire come March 31st.
So, if you have spare coin on hand be sure to head on down to Cuba, Tortuga, Port Royal, or Padres Del Fuego to browse our selections!
- Monger Morton
Community content is available under
CC-BY-SA
unless otherwise noted.