Posted by The Crew on Aug. 17, 2020, 11 p.m.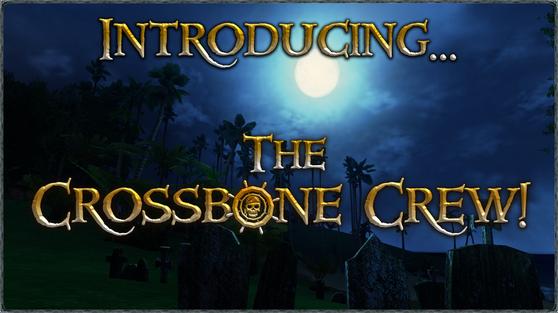 Yarr, heave-ho! Avast! Um… all that pirate jazz! Hi. We're here to introduce the Crossbone Crew, the new community managers of TLOPO!
The Crossbone Crew will be your direct link to the TLOPO staff! No need for a message in a bottle. They'll be in charge of all of TLOPO's social media, be that Facebook, Twitter, Instagram, or YouTube.
Additionally, members of our Test Server will have direct communication with them through our private Discord server!  And don't worry about getting Test Server access, we will be implementing a rolling system where new testers are added regularly.
The best part? You'll be seeing members of the Crossbone Crew all over the Caribbean. They'll be joining your crew, hanging out on the beach, or hosting a variety of fun activities. Now, without further ado, let's meet this motley crew!
---
Damien
Hey everyone!!
My name is Damien and I'm really glad to meet all of you! I have been a member of the TLOPO team for some time now. I am finally stepping out of my shell to be a Community Manager in this game! As a Community Manager, my main goal will be to assist players and serve as the main communicator between the TLOPO Staff and the TLOPO Community!
I have been a member of the POTCO/TLOPO community since 2008, where I developed a strong love for the game. Ever since TLOPO came to fruition, I have been an active player and was lucky to become a staff member in late 2018. I have mostly been in the background, preferring anonymity. However, it is time for me to engage with the community as a whole with our new approach. 
You can find me in-game with the same name, in the Crossbones Crew guild! We will be willing to answer questions, provide assistance, and run in-game events that will happen in the future. You'll also find me in the Test Server Discord!
I can't wait to meet all of you soon, see you in the Caribbean!

~ Damien
---
Gertie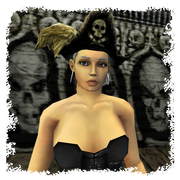 Ahoy friends!
My name is Gertrude, but me mates call me Gertie, Gunpowder Gertie. I've been sailing the seas since 2008 when that bilge rat Jack Sparrow roped me into some rescue mission for his beloved Black Pearl. He promised munitions for me explosives business but took off with the Pearl once she was freed. Ain't seen a lick of ammo or supplies since but the beautiful islands, bustling towns, and endless adventure stole my heart. I've been a passionate follower of the community ever since.
I was elated to join the TLOPO team when given the opportunity. It's been a pleasure getting to know the staff and working behind the scenes but now it's time to get to know you, the community! I am honored to say I'll be serving as one of your Community Managers. Whether we're fighting together in the Caribbean or discussing our plan of attack via Discord, I hope to be a familiar face.
I'll be joining Damien, Clara, and Mr. Dev as a member of the Crossbone Crew. We plan to plunder with pirates far and wide so if you see one of us, say hi! I'm eager to meet you all as we carry on the legacy of the Caribbean.
Love,
Gertie
---
Mr. Dev
Oh, hello there!
I'm Mr. Dev. You've probably seen me in-game or on the forums here and there. I'm one of the game developers for TLOPO. I work on smaller bugfixes and manage holidays, world data, lobbies, and a bunch of other stuff. Of course, I don't do it alone. We have an amazing team of game developers working on TLOPO, and I'm honored that they saw fit to bring my inexperienced heinie into the fold.
 Working on TLOPO has been a dream come true. I've learned so much during my tenure on the dev team. Playing POTCO at 11, I never would have believed I'd be here. Actually being able to modify and change the game is a dream come true. I'm still pinching myself. It's sooooo satisfying to fix all those little imperfections I've noticed over the years. (You have NO idea. I go a little overboard sometimes....)
Anyway… I'll be acting as a direct conduit between you, the community, and the game dev team. Everything you tell me (or Damien, Clara, and Gertie tell me) will be funneled over to the devs!
You probably won't see me around the game as much as the other three members of the Crossbone Crew, but I'll pop in here and there! (I'm always watching…)
Can't wait to see all of you around the game as we start this new chapter!
Well, back to my hole! See you all soon!
~ Mr. Dev
---
Clara
Hello everyone,
Mr. Dev is holding me hostage and making me write this, so here we go!
My name is Clara Marceau, and it is a pleasure to meet you all! I am excited to get to know you all in the coming months, as I step foot into this new position as a Community Manager. I hope that with my presence, along with Damien, Gertie, and Mr, Dev, we will be able to assist you all with any questions, feedback, or problems you run into! We hope to facilitate this communication through the website, game, discord, and anywhere else we might find you. 
For some background on me, I originally started playing TLOPO in 2017, after watching a video about it! I had heard of POTCO, and remember playing it for a bit, but never progressed very far into the game. I am so glad that I was able to rediscover this game and fall in love with it. I joined the TLOPO staff sometime in 2018 as a member of the Quality Assurance department, and have now gotten a promotion!
I look forward to what the future holds, and hope my presence in the community can be a positive one for everyone! We in the Crossbone Crew look forward to seeing you, and having the honour of helping out pirates from all over!
Sincerely,
Clara
Community content is available under
CC-BY-SA
unless otherwise noted.