Posted by The Crew on Feb. 15, 2022, 4 p.m.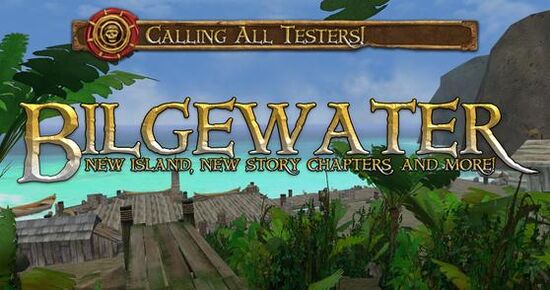 ---
Welcome, Pirates!
Yes, ye heard that's right scurvy dogs! The all-new Island of Bilgewater and two new Story Chapters are now available for testing on our Test Server!
Bilgewater is an island of great historical significance in Pirates Online. This location was the very first island designed by the original Pirates Online crew and it was the art prototype for the game throughout development. Ye can even see an old lost version of it in a few of the game's early trailers!
Within the game's files, there were remnants of Bilgewater, but the best we had was scattered and corrupted location data and a broken model that had no textures. Because of this, we had to start from the ground up when creating Bilgewater; including remodeling the entire island and placing every single prop again by hand. From there, we added lots of extra details and flourishes to make the island even better, such as the Mountaintop Scenic Overview.
Interested in learning more about the development of Bilgewater? Keep a weather eye on the horizon for a blog post coming at a later date where we will dive more into how we brought back this lost location from Davy Jones' Locker.

This update is now available to play on the Test Server. We're happy to announce that earlier this week we sent out new Test Server invitations to players who have previously expressed interest in joining the Test Server, check yer email! Ye may have received an invite link.
We know many players want to join the Test Server, and over 1,000 players have formally expressed interested in joining; but because the Test Server has a scaled down infrastructure, we have to keep the population relatively small. We are an independent project after all, and we'd rather the majority of our server resources go to all of ye, the players on the main game!
So, what happens now? Well, the Testers will do what they do best, test! Bilgewater and all accompanying content will be on the Test Server for a little while, but not too long. We want to get this stuff out to ye as soon as possible, but only after we have confirmed that there are no new bugs in the update. But as far as we are concerned, Bilgewater is finished! We've spent months polishing every little bug we could find, but just in case any slipped through, we have the Test Server!
This update is a true labor of love for us here at The Crew. This is by far the largest original content update we have ever released for the game. We've been diligently working on this content for a very long time.
We'll be seeing ye on Bilgewater very soon... but in the meantime, go get your Black Pearl quest finished if you still haven't! If ye were experiencing the "Unknown Townfolk bug", we have a patch available now on the Test Server that will be released to the Live Servers very soon.
Until next time, fair winds!
The Crew @ TLOPO