Posted by Davy Doubloon on Aug. 2, 2020, 3 p.m.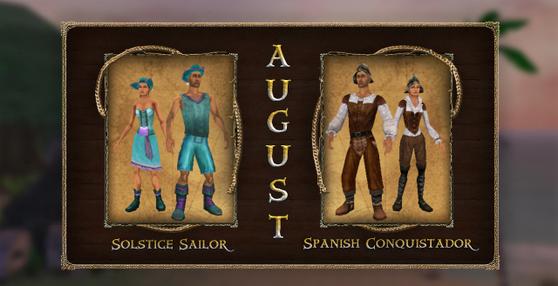 August has just begun and ye all know what that means, it's time for yet another fashionable peddler newsletter!
The classic Spanish Conquistador is back in stock, so get ready to strike yer colours for the Spanish as you set off on an adventure to explore the New World. The snazzy Solstice Sailor also makes a return for those sailors who want to be a blue as the sea, so best run down to yer local peddler to check it all out.
A friendly reminder to all ye fashionistas, we still got last months outfits in stock, so if ye still want a snag the China Seas Warrior or Caribbean Lord, then best hurry, the July outfits will leave our shelves on August 31th while this months outfits will be around until September 30th.
Me and my peddler mates are on Port Royal, Tortuga, Padres del Fuego and Cuba, and you may locate the lot of us by finding the shirt icon on the minimap!
See ye all next month when we bring news of more fashionable pieces of cloth that might strike your fancy!​​​​​​​
Community content is available under
CC-BY-SA
unless otherwise noted.