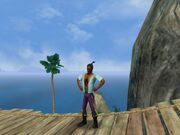 About Me.......
I began playing POTCO as a newbie to gaming. I was hooked onto this game by Eric Warshot. If you see him around, give him a shout! He is currently a member in Dark Archive.
When i started playing POTCO, the looting wasnt out yet, scoundrels wasnt out yet, the world here was kinda blank. no Ravens Cove. But that was good for me, because i coud experience the fantastic updates to their full potential.
When i started, Eric was in Rogues of Fortune, so i decided to join. There, i saw the importantness of social contact and help in this game. And now i am a Veteran in Rogues of Fortune. (I am also in Emerald Regiment, going back and forth) -- (I am also a veteran in Emerald Regiment now!!!!!)
1. I was leveling and slowing enjoying the time i have until i was level 40, mastered. BUT NO!
2. They made the level cap to level 50.
3. And then I was leveling, looting, and slowly enjoying the time I have until I was level 50.
4. I am level 50 now; HOORAH!
If anybody wants to loot with me, gimme a shout!
-IMPORTANT NOTE- I have made a new guild --> Zealous. If you would like to join, use the invite code FLCV8953 for entry. The first 10 people who use this invite code will become officers, and will be warmly welcomed. There is no level limit, so feel free to join. Tell your friends!! (This is on my 3rd pirate).

XBOX Gamertag: hayther97
PSN name: hayther97
www.youtube.com/maxwellmurlock
MaxwellMurlock Talk 03:31, December 7, 2011 (UTC)
MaxwellMurlock Talk
Pirates
| | | |
| --- | --- | --- |
| Maxwell Murlock | Emerald Regiment | LVL 50 |
| Samuel Warshot | Dark Archive | LVL 44 |
| Kelly | Dark Archive | LVL 5 |
| Bingo | Zealous | LVL 1 |
Userboxes
Famed and Legendary
Masterwork Cutlass, The Dark Mutineer, Sharkfang Blade, Spinecrest, Bitter End, Masterwork Sabre, Bloodfire Broadsword, Generals Broadsword, Masterwork Broadsword, Bejeweled Broadsword, Swordmasters Sabre, Bloodfire Sabre, Fullmoon Special Pistol, Grand Blunderbuss, War Scattergun, Demon Fang Knives, Bayou Knives, Swamp Knives, Hawk Idol Knives, Scoundrels Knives, Assassins Knives, Silver Freeze, Blightfang Edge, Corsairs Cutlass, Traitors Dagger, Cutthroat Dagger, Golden Charm, Lucky Charm, Nautilus, Seven Seas Cutlass, Bejeweled Cutlass, Lost Sword of El Patron, Thunderspine Sword, Hex Rebound Doll, Revenant Doll, Bush Master Pistol, Seven Seas Dagger, Bayou Dagger
The Famed and Legendary Below are only some of the famed I managed to screen, if I find the others I will add them. This is not ALL of my famed.
Community content is available under
CC-BY-SA
unless otherwise noted.