INACTIVE!
I have temporarly stopped playing the game... I will start up again in a year or so. Sorry everyone!
Some Moments

My Guide
User Talk:Eric Redmonger/Sandbox
About me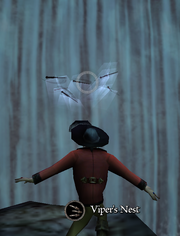 I have been on one week back in 2008 and got to level 10 I won a membership but I wasn't able to use it cause we had to take back our loaner computer. Then I was on for 4 weeks about and got to level 37. I play a lot. And on November 25, 2010 I got to lvl 50. And I also have a sister named Anne Redmonger. I also joined Players Wiki.
Players
Main Pirate:
1. Eric Redmonger
Other Pirates are:
2. Linda Bladespiner <----- sisters old pirate
3. Night Reaper
4. Charlie Dreadwash
Level
1. 50
2. 22
3. 31
4. 4
Guild
Eric Redmonger:
Rank: Officer
I N F E R N O
Linda Bladespiner:
Rank: Guildmaster
Iron Sculls
Night Reaper:
Rank: Officer
Blackjack Outlaws
Charlie Dreadwash:
Rank: Guildmaster
Lunkhead Looters
Achievements



| | |
| --- | --- |
| Red | Eric Redmonger's favorite color is Red. |

































































































Note: I am using all my pirates with this.
Total Items I have gotten
Famed Items
28
Legendary Items
1
Items
Legendary Items:
Famed Items:
2. Dread Spike
3. Broadsword of the Inquisition
10. Assassin's Throwing Knives
15. Masterwork Cutlass (Deleted do to resets)
Famed Items that I have trashed
What I Want
Things I like to Do Where I am
I am usally at tormetna or ravens cove looking for a legendary item.
I dont have a particual server.
I love events like on the gm event i should sandra tew around raven cove I GAVE HER THE TOUR LOL!!!
I also like the thanksgiving event.
Master Council
Me and me friends decided to make a Pirate Master group. They have one guild but I am not in it becasue I have me own guild.
We play on the server:
Barten
Favorite Weapons
Hopes for the Caribbean
I Hope that they add a feature where there would make it that there would be like a curse where enemies won't re spawn until all of them die.
My favorite pages
Loot Famed/Legendary
Current Signature
Community content is available under
CC-BY-SA
unless otherwise noted.