Timothy Dartan is an Undead Gypsy Boss found in Las Pulgas on Padres Del Fuego. He is the late husband of Orinda Le Jeune on Tortuga. He appears at Level 23-30 and attacks with a voodoo doll - using any hex (including Life Drain).
He can be a good source of Notoriety for players at least level 23 to 30.
Quests
The pirate must encounter him as part of the Bloodletter: Stolen Daggers quest.
Location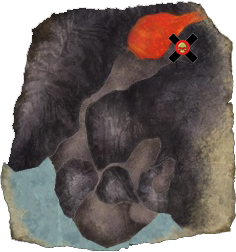 Game Note
Timothy Dartan will always respawn in the same location near the Las Pulgas entrance to El Sudoron.
It is known that it was his widowed wife, Orinda Le Jeune who murdered him. It is revealed in the Adoria's Family Quest when she receives her gun from a quest task, she thanks you for returning the gun she used to kill her husband.
He will sometimes glitch and run straight to the barrels next to Kat Repperson and only show his head.
Community content is available under
CC-BY-SA
unless otherwise noted.