Tortuga Graveyard is a place on Tortuga that is similar to the Governor's Garden on Port Royal. This graveyard is a plot of dirt that has alot of low level Undead. It should be noted that Tortuga Graveyard has a huge amount of Undead Mutineers roaming around the pond there, which would make this place perfect for hunting them down for quests. Like the Garden, you'll probably be moving through here going to other areas, in this case, the Rat's Nest or Thieves' Den or back to town. Unlike the Garden, there aren't any Navy soldiers.
Many starting pirates use this area for leveling up.
Pirates will have to pop in from time to time, at the very least to visit Andros Mallet, the gravedigger.
However, a boss alligator, Hardtack, makes his home here in a small pond.
Recently, the Royal Navy erected a Cannon Defense fort in the graveyard.
Enemies
Undead
Creatures
Bosses
Characters
Location
Dig Spots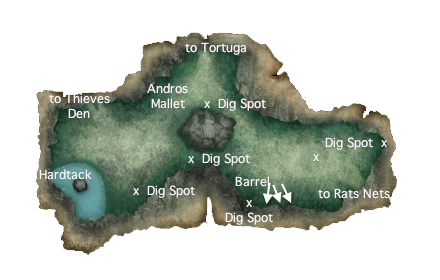 Community content is available under
CC-BY-SA
unless otherwise noted.