Jurassic World: Dominion Dominates Fandom Wikis - The Loop
Play Sound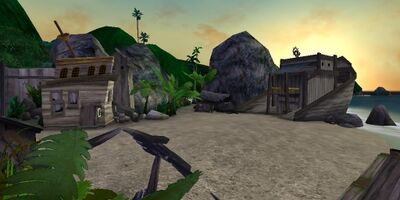 Below is the soundtrack that is played while on Tortuga.
"
I'll tell you mate, if every town in the world were like this one, no man would ever feel unwanted.
"
 

— Captain Jack Sparrow
Pirate Port
Two words describe the island all pirates call home: completely lawless. Tortuga is the place to be if you're looking to misbehave, or if you're looking to put together a particularly motley crew. Anything goes, and often does. When in port, Jack Sparrow and Joshamee Gibbs have been known to frequent Tortuga's notorious Faithful Bride tavern.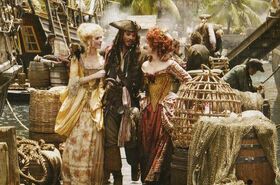 Tortuga ("Turtle" or "Tortoise") is a hazy seaside town and port on Isla Tortuga . The town is a place full of pirates and other criminals, and is almost sacred to them. Tortuga is considered the last free port, which means that it is one of the few places in the Caribbean that is not under the control of the East India Trading Company (Even though they have a secret outpost there).
Although Tortuga has a reputation as a place where pirate ships such as the Black Pearl and, "The Black Phantom" dock, honest ships such as the Edinburgh Trader often make port there and conduct their business. This is also where you will find the Faithful Bride Tavern which is a bar where pirates drink and play Poker and Blackjack. In the Caribbean, there were two Tortugas. One was located off of Venezuela but was uninhabited save for some small smuggler dens. The other Tortuga, the one in Pirates Online, is located off the north western coast of Hispaniola. It was discovered by Columbus in the 1497 and in the 16th century it was colonized by the Spanish.
In the early 1600's, France captured it from Spain and set up their own colony. Like 17th century Port Royal, the Tortugan government relied on pirates to protect them. It became a downright pirate haven in the 1700's when the game takes place. Tortuga is known for its debauchery and has many citizens ranging from civilians and ex-soldiers to buccaneers.This island is Pirate Central.
Map
On January 27 2009, the Pirates of the Caribbean Online developers completely redesigned the layout of Tortuga.
Areas
Enemies
Creatures
With only a few settlements on the island, most of Tortuga is jungle and caves, filled with all kinds of dangerous wildlife.
Despite not having a base of operations on the pirate-infested island, some Navy soldiers can be found on Tortuga working with agents of the Black Guard.
East India Trading Company
The EITC keeps tabs on the locals from a secret outpost manned by a select few loyal agents.
Undead
Though Jolly Roger has been unable to overrun the island, pockets of his undead skeleton army can be found in several places, trying to corrupt this pirate haven.
Bosses:
While random bosses could appear anywhere on Tortuga, these stationary ones can always be found at their designated locations.
Merchants:
Anything a pirate could want or need can be found on Tortuga (usually for a price).
Characters:
Main Characters
Quest Characters
Orinda Le Jeune (A), Doctor Grogan aka Doc Grog (R), Scarlet (G), Andros Mallet, Hendry Cutts (E), James Pidgley (aka John Carver), Andrew Bowdash (King of Tortuga), Karbay Benedek, Millie Cutts, Nill Offrill, Lala Lovel, Johnny McVane, Amelia Sunfellow
Minor Characters:
Big Phil (B), Butcher Brown (C), Ben Flatts, Bonita, Tomas, Davy Dreadbutler, Hector Foulbreaker, Retavick, Simon Hornbow, Boatswain Bill, Le Cerdo, Slim, Jack Redrat, Roman Paine, Peter Chipbutler
Digs / Special: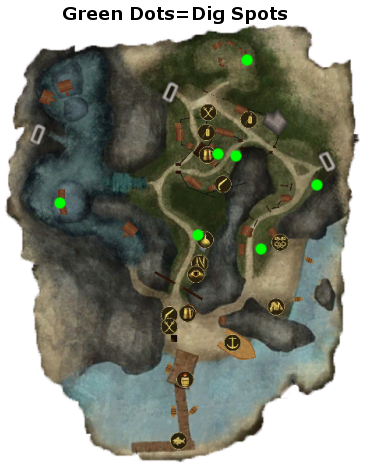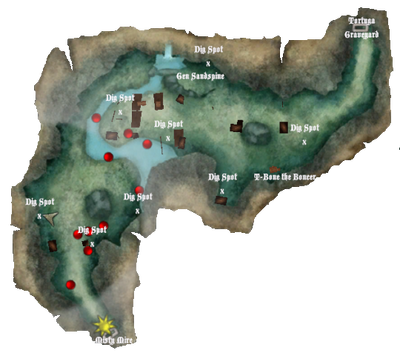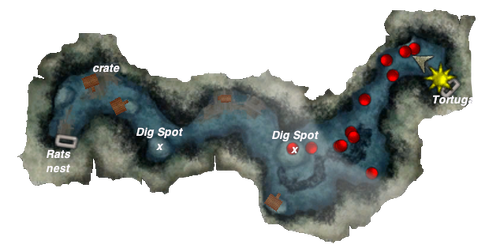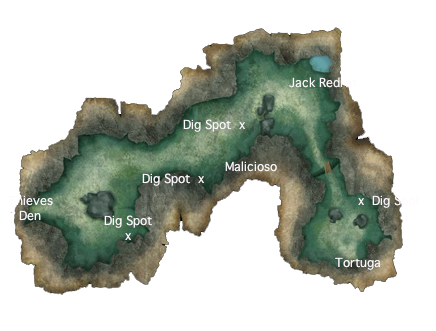 Also see Dig Spot
Quests:
Storage Containers
Mini Games
Pirates can play additional Mini Games to earn extra gold while on the island.
Invasion!

Jolly Roger's army is on the move and staging Invasions of Tortuga, as Jolly seeks out Captain Jack Sparrow! The undead minions seige the barricades put up by the pirates, as they march to the Faithful Bride. If they reach it ( and destroy the huge barricade in front of it), their beloved tavern will go up in flames. Tortuga was the second island to be invaded. When Jolly Roger invades, he always says the following quote:

"Let's take Tortuga ye dogs!... And do not let Jack Sparrow get away, savvy? Go go GO!!!"
Old Tortuga
How Tortuga looked before it was attacked by the EITC. (See Island Destructions and Reconstruction).