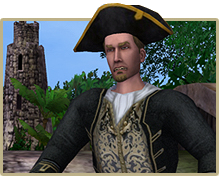 The Black Guard Cometh was a GM event introduced in the summer of 2009.
Story
After the Battle of Padres, in anger for its losses, the East India Trading Company sent squads of its elite Black Guard to hunt down the notorious pirates involved in the Battle of Padres, namely the Marceline Guild.
Game Play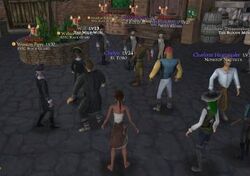 The event began with Black Guard ring leaders (Captain Ellison Shaw, Private Millard Wingate, Wallace Beck, Lieutenant Clayton Meade, Johnathan Reed, Winston Piper, etc.) - played by GM's - visited Port Royal. They arrived and interrogated pirates, who soon resisted their tactics and offers. The Black Guard then spotted the Marceline Guild and a showdown occurred.
Other versions of this event have occurred, mostly during feasts and celebrations of Pirates (Mardi Gras, Brethren Feast, etc.). These varied versions involve the Black Guard leaders disrupting the events by using their 'magic' (which they gained from their ally of that time - Jolly Roger) to attack pirates.
Game Note
Originally, players were allowed to attack the Black Guard GMs, but this feature was removed due to the disruptive behavior of certain players. The event would conclude with the Black Guard losing and leaving the island for good.
Since many pirates disrupted such events with their rude behavior, the Game Masters were later given new powers to knock out problem players.
Event Screenshots
Community content is available under
CC-BY-SA
unless otherwise noted.