We're Getting Mutants in the MCU - The Loop
Play Sound
Note: This article refers to content from a seasonal event, which usually reoccurs once every year.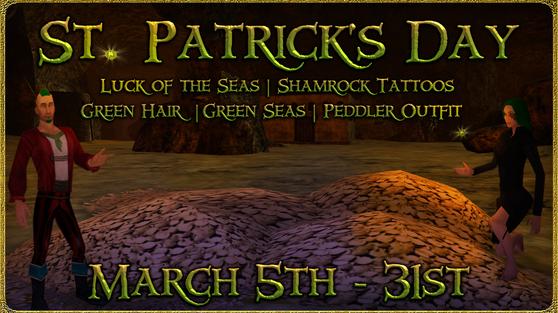 St. Patrick's Day is an event/series of events in mid-to-late March, celebrated in honor of the Irish patron saint, Maewyn Succat, also known as St. Patrick.
Theme
The events are Irish and green color themed. The seas turn green apparently due to the arrival of Shamus O'Malley of the Marceline Guild. Shamus claims he went with the Marceline to sink East India Trading Company cargo ships, and green dye was spilled, turning the seas green... or it may just have been because of an alarming growth of phyto-plankton - that only seems to grow around St. Patrick's time.

Another key feature of this event is limited edition green hair dye offered by barbers around the Caribbean courtesy of Shamus himself. The hair dye has been quite popular amongst pirates since the events were introduced in 2009.
Many Marceline GM events were held with Shamus in the lead honoring St. Patrick. Also, if Shamus was ever found roaming around randomly, he would congratulate the pirate and offer him a select amount of gold
St. Patrick's Day Quest

In 2019, The Legend of Pirates Online added a St. Patrick's Day quest featuring Shamus O'Malley, who appeared on the docks in Tortuga. As part of A Hexed Sparrow, Shamus asks the pirate's help when Captain Jack Sparrow's renowned good luck suddenly runs out.
Completing the quest earns the pirate the Luck of the Seas sailing charm.
St. Patrick's Day Peddler Outfit
Main Article: St. Patrick's Day (outfit)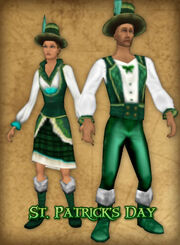 The St. Patrick's Day Outfit is a matching outfit offered to all players for purchase.  This outfit makes you look like a leprechaun! It was available from the Peddlers on Padres Del Fuego, Port Royal, Tortuga, and Cuba. Peddlers offer clothing that will only be available for a limited time.
Along with this outfit, matching tattoos and green hair dye are also available around St. Patrick's Day.
Complete Outfit (Female): 5,400 Gold
Complete Outfit (Male): 5,400 Gold
St. Patrick's Day Tattoos
These green tattoos can be bought from Tattoo Artists around St. Patrick's Day.
Image
Cost
Tattoo
Image
Cost
Tattoo
1000 Gold
300 Gold
1000 Gold
300 Gold
500 Gold
500 Gold
300 Gold
Game Notes:
There was a bug that allowed you to buy all of the Saint Patrick's Day and Mother's Day tattoos long after the event ended.
Patrick's Day 2012 had appearances from O'Malley and Old Sooty. They appeared on the northern wild islands, being Perdida, Rumrunner's, Driftwood, and Cangrejos. The player had to be wearing green and ask politely or Old Sooty would not give the code for Golden Knuckles.
It is possible to keep your pirate's green hair colour long past the end of the event. So long as it is not changed again at a barber, it will remain green indefinitely.