Silver Freeze (Previously known as Mercer's Blades) are currently the only Legendary Throwing Knives in the game. These knives have the unique and deadly Silver Freeze ability that freezes all the nearby targets in your area, (which is similar to the Freeze Sweep ability from the mighty World Eater Blade) for which the weapon is named. They also give a +3 Blade Instinct boost, making it far more powerful.
They have very intricately shaped handles, and if you look closely, you can also see ancient patterns carved into the blades. They are usually found and looted at the deadly Foulberto Smasho.
They require a Dagger Master in order to wield these lethal throwing knives. These knives could also be mistaken for Assassin's Throwing Knives or Master Throwing Knives.
News release from Pirates Online:
The Legendary Silver Freeze is one of the daggers that once belonged to Abu Nar's most skillful assassin. It's said the infamous dagger has the power to freeze its victims leaving the dagger's owner to carry out his mission without any interruptions. Rumor also has it that the dagger is controlled by a powerful gypsy curse but only those who wield this legendary dagger can testify to its powers.
Game Notes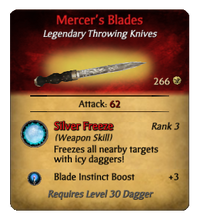 Community content is available under
CC-BY-SA
unless otherwise noted.