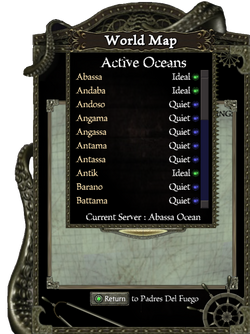 Servers (also known as Oceans) are the different areas in the Pirates of the Caribbean Online game. With the potential for thousands of players, the POTCO universe is divided into multiple location, each identical - like parallel dimensions.
Two players could be on the exact same location at the same time, but never interact with each other - because they are on different servers. Each ocean has a unique name.
To change oceans, click on the Sea Chest, then the Globe Icon or press 'M', which takes you to the World Map. Above the pirate's map is the name of the ocean server they are currently on.
Click on the name and a list of servers will appear. Next to each name is a status.
| | |
| --- | --- |
| | FULL - The number of pirates on this server is maxed out. You cannot go there. |
| | IDEAL - A good mixture of pirates and can sometimes be a little busy. |
| | QUIET - Few or no pirates on this server, meaning that social interaction may be limited. |
Select the ocean you want, and your pirate will be whisked away. If you are on a main island, you will be transported to the same island on that ocean. Otherwise, you will be teleported to your Home Port (the last main island you were on).
If a player is booted off the system during play, the game will automatically select the same server for their next log in.
Test Server
The Test Server is actually a separate game, and a separate download. It requires certain qualifications for it to be accessed by players. After signing up to join Test, users get to "test" a variety of Beta updates, before their releases into the live game. Despite it being separate, it is still referred to as "server". The Test game has only 2 servers in it, Amberassa and Lankoglia.
Welcome Server
Welcome Servers are special servers for new pirates after Pirate Creation. Port Royal is the only island on these servers. Once a pirate sets forth in his/her ship for the first time, they are out in the 'Real World', or 'Live' servers of Pirates Online, and cannot get back on welcome servers.
Recently, all Welcome Servers except Welcome1 have been removed.

Old Welcome servers were:
Welcome2
Welcome3
Welcome4
Welcome5
Welcome6
Welcome7
Welcome8
Welcome10
Active Servers
These were the POTCO servers that were still active when Pirates Online closed in 2013. Abassa and Andaba were primarily the most populated.
Abassa
Andaba
Angassa
Antik
Battama
Bequermo
Cortola
Exuma
Fragilles
Kokoros
Lempona
Monada
Savica
Tortos
Vachira
Removed Servers
Some servers (oceans) were removed from Pirates Online over the years. Either because they were no longer necessary or some sort of errors were connected to those specific servers. At it's peak, POTCO had more than 50 active servers with hundreds on pirates player on each at the same time.
Andoso
Angama
Antama
Antassa
Antiano
Antios
Antiros
Baraba
Barila
Barano
Barten
Barumal
Battaire
Battassa
Battermo
Battevos
Battira
Bimos
Blanada
Bonaam
Caicos
Cortevos
Caicaba
Caicaux
Caicumal
Camaago
Camanes
Camaros
Chetermo
Chetik
Cortilles
Cortos
Cozana
Cozila
Cozilles
Cruzaire
Cruzman
Cruzola
Deseano
Desereau
Deseros
Eustabia
Esquado
Esquago
Esquira
Eustaros
Exubia
Fraggue
Fraguilla
Frailano
Galaira
Guines
Galaacare
Galaana
Galaros
Guyago
Hassigos
Hasilles
Hassaba
Hassano
Hassros
Jamigos
Jamilles
Kokojillo
Kokoago
Lempago
Legassa
Levica
Martinaba
Monos
Mosona
Muigos
Navago
Navermo
Navona
Nicada
Pataba
Patros
Romana
Sabada
Sabona
Sanilla
Santia
Game Notes:
Some players or entire Guilds prefer one server over another. But, no player or group can lay claim to a particular server or area.
There are rumors that some servers may be more prone to failure, lag or better plunder. Likely, the busier servers become more prone to lag due to traffic and build up of old information that must occasionally be reset or purged.
Though the game picks a random server to place a player when they log in, it is noted that they will often arrive near someone in their friend list or guild list. This may be more than coincidence.
Community content is available under
CC-BY-SA
unless otherwise noted.