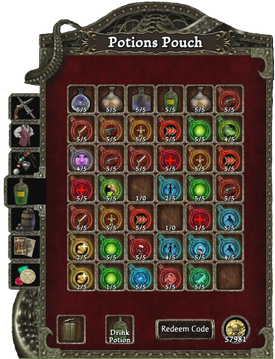 The
Potions Pouch
is where the pirate keeps all of their found or purchased
Tonics
and made potions. It can hold up to 42 different kinds of potions and tonics at a time.
There is also a Trash Bin at the bottom where unwanted potions can be disposed of.
Brewing Potions
Pirates can now play a Mini-Game to get ingredients to build a potion. These potions can increase a pirate's abilities (weapon accuracy, damage, voodoo power, etc.) or do something funny (belch and pass gas). At each gypsy is a potion table where the pirate can play the game to gather their ingredients.
The finished potions are added to the Potions Pouch. At any time, a player can go to their Inventory (Press I) or click the Sea Chest. Once they find the right potion, right-click on it to activate the effect.
Pirates earn Reputation toward their Potions skill which will allow them to create more potent formulas.