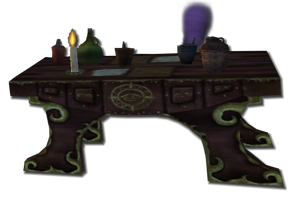 Located next to each
gypsy
cart is a
Potion Table
. This table is covered with bottles of various chemicals, extracts and odd ingredients. A pirate can use these items to make a
Potion
. These potions vary in their abilities and complexity to make.
To make a potion, step to the table and press Shift. Then, you will able to select a potion for the list and play a mini-game to make the ingredients. Once the recipe is complete, the new potion is added to your Potions Pouch.
Press ESC to return to the Gypsy Cart when finished.
Some gypsies don't have a Potion Table, such as Heartless Rosaline.
Community content is available under
CC-BY-SA
unless otherwise noted.