| | | |
| --- | --- | --- |
| | THIS ARTICLE OR SECTION IS UNDER CONSTRUCTION! | |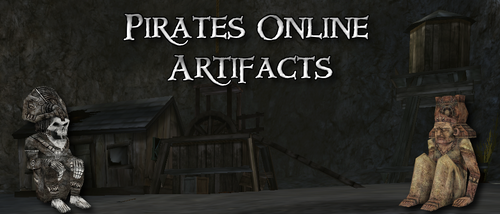 Over the years that Pirates of the Caribbean Online was open, there were many people who worked to develop the game. A lot of their ideas and work were incorporated into the game, while some items never left the idea board. This page is here to archive and commemorate all the hard work that was put into the game and pay tribute to all the people that worked to make Pirates Online the savviest swashbuckling game out there. These artifacts are here to remind us of our past swashbuckling adventures.
All works are copyrighted by their respective creators and Disney.
Pirates of the Caribbean Online
Below are a collection of images from the Pirates of the Caribbean Online game. These were work in progress concepts for various updates to the game. Some features made it to the live game while others were modified extensively before being released.
Pirates Online
The below images were marked as "Pirates Online" and are very different from Pirates of the Caribbean Online concepts.Though it is just speculation, it is believed that these ideas eventually turned into the browser game Cannon Assault or perhaps even had an influence on Pirates of the Caribbean: Isles of War.
Additional Content
To see other concept material of in development, scrapped and unreleased content from
Pirates of the Caribbean Online
, check out these exciting pages:
Community content is available under
CC-BY-SA
unless otherwise noted.