Pirates Online Closing was the final event that occurred within Pirates Online. The event started on August 20th, 2013 and ended when Pirates Online closed on September 19th, 2013. Each week up until the closing, new content or a special event was added to the game.
Additions
Each week, the Pirates Online Crew added new content to the game up to the closing. Some of the content stayed in the game until closing, and others only stayed during that week.
Permanent Additions
Week One
Week Two
Week Three
Temporary Additions
Week One
Week Two
Week Three
Peddlers
During the event, previous peddler outfits were re-released at a large cadence per week.
Week One
Week Two
Week Three
News Posts Regarding the Event

September 18th - Farewell and Fairest of Winds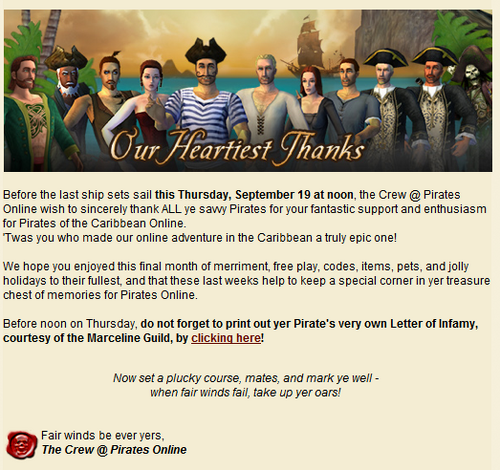 September 12th - The Muertos Moon Rises Friday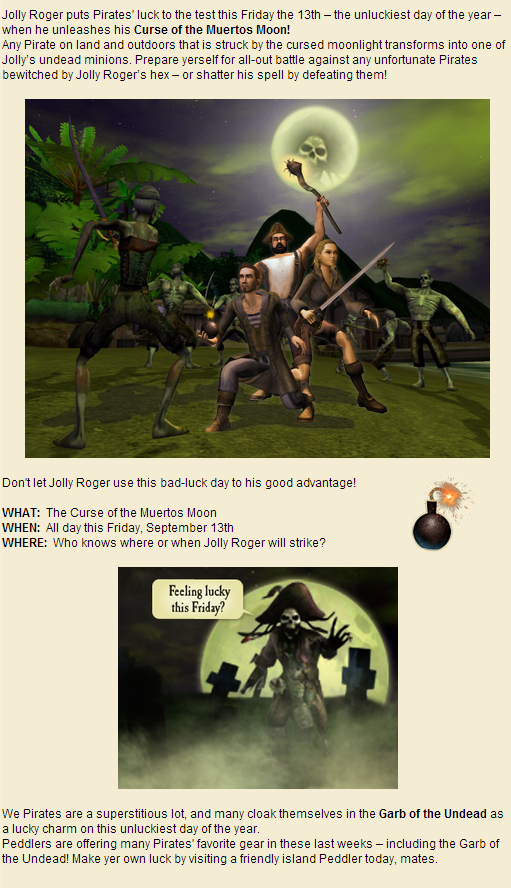 September 6th - Eerie Chill Spreads Across the Caribbean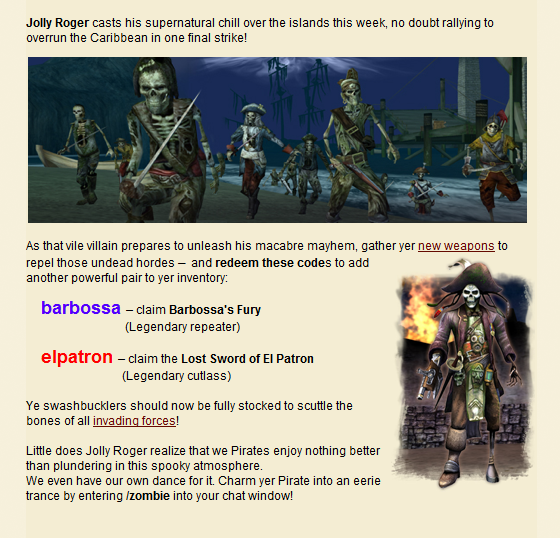 August 30th - A Jolly Week with More Merry Gifts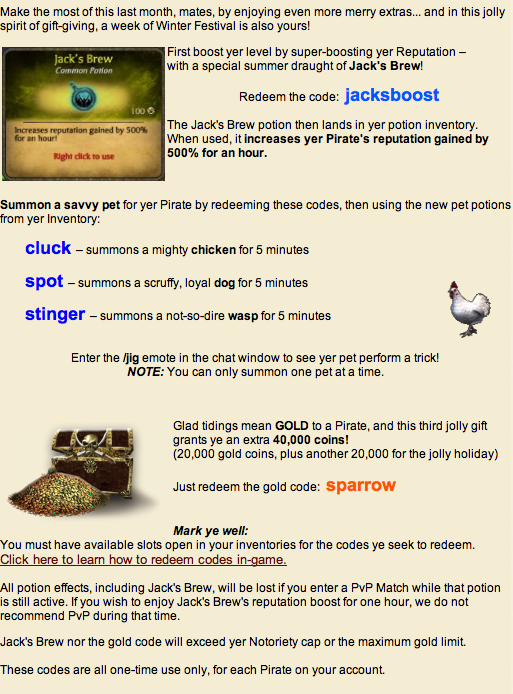 August 23rd - Double XP & Treasure Chest of Codes!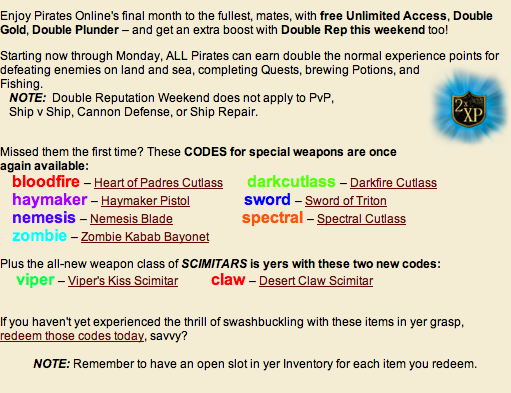 August 20th - Important News From Pirates Online
Mark ye well, mates –
Pirates of the Caribbean Online will be closing on September 19, 2013.
From now until September 19, 2013, ALL Pirates can log into Pirates Online and enjoy full Unlimited Access for free!
We sincerely thank every savvy scoundrel, swift-footed swashbuckler, kindly cutthroat, and plunderin' Pirate on the high seas for your tremendous enthusiasm and loyal support for Pirates of the Caribbean Online.
To learn more about Pirates Online closing click here, or visit our Pirates Online Closing FAQs for even further information.
Keep a weather eye here on the Current News for festive events and a few swashbucklin' surprises sailing yer way during the next weeks.
First on deck, fireworks herald a final month of Double Gold AND Double Plunder!
Not only do you earn twice the gold every day, yer also twice as likely to find loot when defeating enemies, and you earn DOUBLE the amount of materials from sinking Warships and Bounty Hunters at sea.
Now steer a course for full, free unlimited access to every corner of the Caribbean, mates!

Sincerely,

The Crew @ Pirates Online

There were a variety of unique news pop-ups that appeared during the course of the event.
Community content is available under
CC-BY-SA
unless otherwise noted.