Patricio Luckless is a Undead Gypsy boss residing in Tortuga Graveyard in his shop, Patricio's Potions.
The pirate must confront Patricio as part of the A Hexed Sparrow quest during the St. Patrick's Day holiday. During the quest, the pirate is trying create a new lucky charm for Captain Jack Sparrow.
Tia Dalma sends the pirate to find Patricio, fearing he may become a victim of Jolly Roger and his latest scheme. Sadly, the voodoo mistress is right; Patricio has become undead - serving Jolly's whim.
He only appears during the St. Patrick's Day holiday, otherwise his shop remains empty with a spectral image of Jolly haunting the space.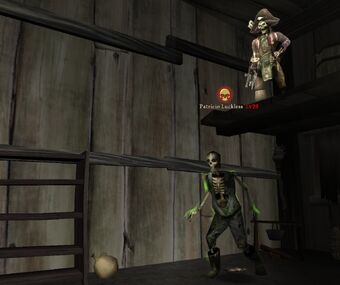 Game Note
Patrico was not part of the original Pirates Online but added later to The Legend of Pirates Online.
Community content is available under
CC-BY-SA
unless otherwise noted.