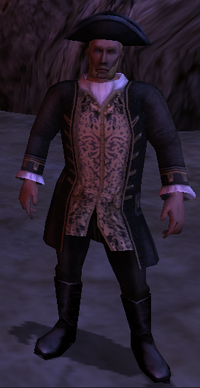 Members of Black Guard, Mercenaries are some of the most deadly soldiers in Lord Cutler Beckett's private army - second only to the dreaded Assassins.
They range from Level 23-30 (Health 2,450-2,750). They are highly skilled with their cutlasses, and can perform advanced moves such as Thrust and Blade Storm. Unlike their Navy counterpart, the Officer, they have no qualms about fighting dirty and will not hesitate to use moves such as Taunt and Brawl.
Game Note: These levels can vary on Flaghips as the levels of enemies on flagships change depending on you and your crew's notoriety level.
Attacks include:
Locations
Bosses
These mercenary bosses can appear at random times across the Caribbean where other mercenaries can be found.
Community content is available under
CC-BY-SA
unless otherwise noted.