Materials are collectible items or currency other that gold that the pirate can collect. There are type of materials specifically for use in Ship Customization. And there are special material currencies like Bones and Moonstones. You can view these materials in your "Materials Pouch" tab in the Inventory section of your Sea Chest.
Ship Materials can be found by defeating Bounty Hunters, Warships, and on occasion other regular enemy ships at sea. Common materials like; iron, canvas, and pine, can be found by sinking Bounty Hunters. Rare materials; oak, silk, and steel are most often found in the loot from Warships,
There is also Grog, but it does not currently have a function in game.
As part of the Halloween 2017 update in The Legend of Pirates Online bones were added. They could be found by killing enemies and then used to purchase special Anniversary items from vendors in the Hollowed Woods.
For the Winter Festival event in 2018, moonstones were added to TLOPO. Also found by killing land enemies (Undead, Human and Thralls only), they could be exchanged at a special Yuletide Manor vendor shop on the island of Tortuga.
| | | |
| --- | --- | --- |
| Icon | Description | Info Card |
| Canvas | A rough sail material, good for catching swift winds | |
| Silk | A finer, lightweight sail material allowing for even greater speed at sea | |
| Iron | A trusty, basic armor material to protect yer hull | |
| Steel | A refined, heavier armor material to repel deadly cannon blasts | |
| Pine | A light wood for quick expansion of deck and hold | |
| Oak | A heartier wood allowing for even greater cargo hold dimensions | |
| Bones | Description | Info Card |
| Small Bone | A common bone dug up by gravediggers. | |
| Large Bone | A sizable bone that can be traded for goods. | |
| Haunted Bone | A rare bone that is said to be possessed by evil forces. | |
| Small Moonstone | A small rock endowed with a winter spell. | |
| Large Moonstone | A sizable rock blessed with the spell of a cold winter's night. | |
| Enchanted Moonstone | A rare enchanted stone of night, with ice crystals embedded inside. | |
| Scrapped Items | Description | Info Card |
| Grog | This valuable commodity can be traded to craftsmen for special goods and services | |
| Silver | This valuable commodity can be traded to craftsmen for special goods and services | |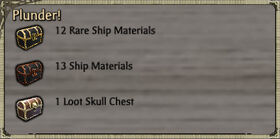 Game Note
Grog's game card was changed after a maintenance occurred. Developers confirmed it would be coming to the Test Server along with Rank V and VI Hulls, in March 2012. When the new hulls were released, Grog was not. It is assumed that Grog was canceled from development.
Community content is available under
CC-BY-SA
unless otherwise noted.