Note: This article refers to content from a seasonal event, which usually reoccurs once every year.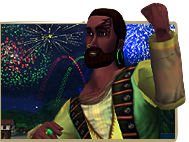 Mardi Gras is a very special celebration which took place in March. During the event, pirates celebrate Mardi Gras by donning brightly colored outfits. When night falls, the skies erupt in color as fireworks appears on the coasts of Port Royal, Tortuga and Padres Del Fuego illuminating the brightly colored outfits that pirates wear during this time.
Additionally, the bonfire and roast pork tonic appear on the shores of Tortuga. One piece of pork can restore the user's full health! Each visit to a fire pit granted the pirate 5 pieces of delicious pork at a time!
Garb
In addition to the wonderful festivities, there is also a colorful Peddler Set that is sold during this time period to get your groove on. The Mardi Gras outfit is noted to be one of the most colorful, cool, and most brilliant peddler outfit within the game. This is the only time when the peddler set is available.
Traditions of Mardi Gras
The Mardi Gras (also called Fat Tuesday, and Carnaval in Brazil) refers to the practice of the last night of eating richer, fatty foods before the ritual fasting of the Lenten season, which begins on Ash Wednesday. Historically, the tradition can be traced back to the 17th Century.
"Popular practices include wearing masks and costumes, overturning social conventions, dancing, sports competitions, parades, etc. Costumes, food, and parade floats often feature three primary colors. The color of purple represents justice, the color of green represents faith, and the color of gold represents power."
Music
Below is the soundtrack that plays during the events with Fireworks.
Community content is available under
CC-BY-SA
unless otherwise noted.