Ahoy! This be your information resource for Pirates of the Caribbean Online & The Legend of Pirates Online, a former game and its recreation. Both are based on Walt Disney's Pirates of the Caribbean films, rides, and characters.
Anyone can edit any page here, and we encourage you to join us! If you find something that can be improved, either in content, grammar or formatting, feel free to fix it! Just please make sure it follows our Policies. If you have any questions about the wiki or helping out, you can ask one of our Administrators.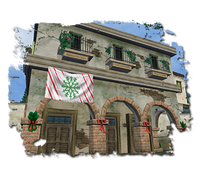 Celebrating the end of the year holidays has been a Pirates Online tradition since the beginning. Decorations, music, and even special 'sand men' adorn the beaches in the months of December and January. And in The Legend of Pirates Online, comes the addition of the Yuletide Manor and the Frost Family who offer even more holiday fare in exchange for Moonstones. Read More
News Blog
Archive
Posted by Holly Frost on Dec. 3, 2021, 10 p.m.
Come in, dearie. We just re-opened the Yuletide Manor! Can ye believe it's already time again for the Winter Festival?
Seems like just yesterday the family …
Posted by Monger Morton on Dec. 2, 2021, 10 a.m.
Ahoy, pirate! Can you believe another year has almost passed?
The Winter Festival is coming back and everyone will want to be in their finery for the cele…
Posted by Butcher Brown on Nov. 21, 2021, 3 p.m.
Mhmmm... you smelt it, didn't ya? That aroma of fresh slow-cooked meat smoked over a proper pit fire, doused with vinegar and herbs? Your nose led ya' r…
Pirates Online Wiki is not associated in any official way with the Walt Disney Company; its subsidiary, Disney Interactive; or any additional subsidiaries or affiliates.
The characters as well as "Pirates of the Caribbean" are TM and © (copyright) The Walt Disney Company, Jerry Bruckheimer Films, and their related entities.