Ahoy! This be your information resource for Pirates of the Caribbean Online & The Legend of Pirates Online, a former game and its recreation. Both are based on Walt Disney's Pirates of the Caribbean films, rides, and characters.
Anyone can edit any page here, and we encourage you to join us! If you find something that can be improved, either in content, grammar or formatting, feel free to fix it! Just please make sure it follows our Policies. If you have any questions about the wiki or helping out, you can ask one of our Administrators.

News Blog
Archive
Posted by The Crew

2019-04-17 13:30:00




Ahoy,

It brings us great joy to bring you our next update. It's been some time since our last one and we truly appreciate your patience. We've been hard at work ge…

Read more >

Posted by The Crew

2019-04-07 19:00:00




Ahoy,

This insider is to address some of our plans for this year. Many of you have expressed concern over the lack of updates this year and we hear you, the truth …

Read more >

Posted by Monger Morton

2019-04-05 15:00:00




Ahoy, all ye buccaneers and seadogs!

I'm here to tell ye about this month's peddler offerings. We have the ever popular Capt. Black this month, which is quite…

Read more >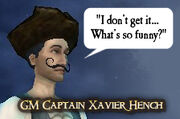 April Fool's became a Pirates Online tradition starting in 2009 with the Cannon Swab Cannon followed by the annual mustache prank in 2010 - which continues to this day. And now, The Legend of Pirates Online has added a new April Fool's Quest. Read More
Pirates Online Wiki is not associated in any official way with the Walt Disney Company; its subsidiary, Disney Interactive; or any additional subsidiaries or affiliates.
The characters as well as "Pirates of the Caribbean" are TM and © (copyright) The Walt Disney Company, Jerry Bruckheimer Films, and their related entities.