Ahoy! This be your information resource for Pirates of the Caribbean Online & The Legend of Pirates Online, a former game and its recreation. Both are based on Walt Disney's Pirates of the Caribbean films, rides, and characters.
Anyone can edit any page here, and we encourage you to join us! If you find something that can be improved, either in content, grammar or formatting, feel free to fix it! Just please make sure it follows our Policies. If you have any questions about the wiki or helping out, you can ask one of our Administrators.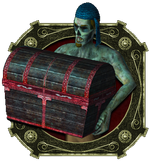 The TLOPO Development team created a new game mode for The Legend of Pirates Online - Capture the Chest. This new PvP mini-game plays just like classic Capture the Flag modes in games like Halo or Call of Duty. Two teams of Undead pirates battle it to protect their own loot while trying to make off with the treasure of the other team! Read More
News Blog
Archive
Posted by The Crew on Sept. 19, 2021, midnight
Gather around ye Bilgerats,
Strange things are happening on Port Royal... late this evening, Jolly Roger's minions have clawed their way in. This surely wi…
Posted by Kat Repperson on Sept. 2, 2021, 4:30 p.m.
Ahoy mates,
It be a new month and ye all know what that means, so let's get right into it shall we?
For our first set, The French Assassin be a fancy se…
Posted by Monger Morton on Aug. 13, 2021, 9 a.m.
Ahoy there,
You know it, I know it. This Friday be a very... "special" day. Ghosts and ghouls be about, and all matter of unholy or... unlucky things coul…
Pirates Online Wiki is not associated in any official way with the Walt Disney Company; its subsidiary, Disney Interactive; or any additional subsidiaries or affiliates.
The characters as well as "Pirates of the Caribbean" are TM and © (copyright) The Walt Disney Company, Jerry Bruckheimer Films, and their related entities.