Ahoy! This be your information resource for Pirates of the Caribbean Online & The Legend of Pirates Online, a former game and its recreation. Both are based on Walt Disney's Pirates of the Caribbean films, rides, and characters.
Anyone can edit any page here, and we encourage you to join us! If you find something that can be improved, either in content, grammar or formatting, feel free to fix it! Just please make sure it follows our Policies. If you have any questions about the wiki or helping out, you can ask one of our Administrators.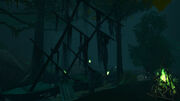 The witching season be not far off mates. Soon, the veil between this world and the next will be at it's thinnest. And it's nearing time for the veil between the Caribbean and the lost village in the Hollowed Woods to open once again. Read More
News Blog
Archive
Posted by Davy Doubloon on Jan. 2, 2020, 8 p.m.




Shiver me timbers, is it a whole 'nother New Year already?! My th' time has flown, haddn'tit? But I think it's been a good year for pirates, an' here's …

Read more >

Posted by Jesse Tidus on Dec. 31, 2019, midnight




Ahoy, lads and lassies.

It has been quite some time, has it not? Must I reintroduce myself? Jesse Tidus here, once again making port to celebrate with m…

Read more >

Posted by Deaf Gunny and Anton Levy on Dec. 25, 2019, midnight




On the final day of Celebration the Brethren Court gave to you... Classic Candy Cane Weapons!

HAPPY HOLIDAYS TO YE ALL!

I'M SO EXCITED TO B…

Read more >
Pirates Online Wiki is not associated in any official way with the Walt Disney Company; its subsidiary, Disney Interactive; or any additional subsidiaries or affiliates.
The characters as well as "Pirates of the Caribbean" are TM and © (copyright) The Walt Disney Company, Jerry Bruckheimer Films, and their related entities.
Community content is available under
CC-BY-SA
unless otherwise noted.