Ahoy! This be your information resource for Pirates of the Caribbean Online & The Legend of Pirates Online, a former game and its recreation. Both are based on Walt Disney's Pirates of the Caribbean films, rides, and characters.
Anyone can edit any page here, and we encourage you to join us! If you find something that can be improved, either in content, grammar or formatting, feel free to fix it! Just please make sure it follows our Policies. If you have any questions about the wiki or helping out, you can ask one of our Administrators.

News Blog
Archive

Posted by Kat Repperson February 17, 2019, 10:30 p.m​

Ahoy, all of you swashbucklers! The month of February has arrived along with some new outfits to wear.

The first outfit that we have brought to you …

Read more >

Posted by The Crew

February 14, 2019, 12:30 p.m​




Aye it be that time of the year again where lads and lassies chase their crush with cupid's arrows ready to fly. Either the treasure of their heart desi…

Read more >

Posted by Kat Repperson

Dec. 31, 2018, 7 p.m.




Ahoy, mates!

Kat Repperson, your friendly neighborhood Peddler here! Don't mind me, just fightin' off the undead here in Las Pulgas! I'm not busy at all! Pl…

Read more >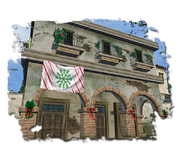 Yuletide Manor is the festive shop that opened on Tortuga during the Winter Festival of 2018. The Frost Family offers special items in exchange for moonstones
Pirates Online Wiki is not associated in any official way with the Walt Disney Company; its subsidiary, Disney Interactive; or any additional subsidiaries or affiliates.
The characters as well as "Pirates of the Caribbean" are TM and © (copyright) The Walt Disney Company, Jerry Bruckheimer Films, and their related entities.