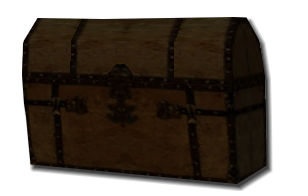 After defeating an enemy or sinking an enemy ship, a
Loot Chest
may be obtained. It will contain from 1-5 items. The
Loot
inside can range from
gold
, ammo,
cards
, Treasure Collection items,
clothes
or
weapons
. The weapons range from
crude
to
rare
. On very rare occasions
Famed
(as seen in picture below), or possibly even
Legendary
weapons may be found in a loot chest.
To acquire what's in the loot chest, simply walk up to it and press the Shift key. A contents window will appear. The pirate can then pick and choose what they want or select Take It All.
If a pirate has found an item and has no room to store it, they will be unable to take that item unless they delete an item from their inventory. A loot chest will disappear after 1 minute if all of the loot inside isn't taken.
Game Note: Loot Chests will always have a loot rating of 2.
Community content is available under
CC-BY-SA
unless otherwise noted.