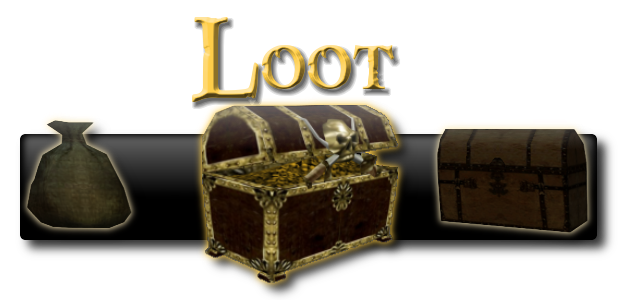 Definition

Loot or plunder consists of objects (weapons, clothes, ammunition, gold, tonics, etc.) that might be dropped by a pirate's enemy or enemy ship. These items are then available to be picked up after the battle.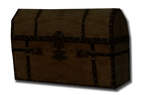 Finding Loot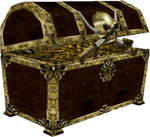 After defeating an enemy a Loot Pouch, Loot Chest, or Loot Skull Chest may be dropped. There are also loot drops you get from Cannon Defense, Fishing, Sailing and in the El Patron Boss Battle. They will contain a number of items that can be added to the player's inventory. Loot Chests will usually contain higher quality items compared to pouches, while Skull Chests contain the best and rarest items.
The pirate can select which looted items to take or leave - or click "Take It All!".
If your pirate's inventory is full of a particular type of item, the new item will remain in the loot pouch, chest or skull chest. The pirate will then either have to make room for the item by deleting something else, or leave it behind.
Loot containers sport a skull Loot Rating to indicate an overall quality of the items found.
Game Notes:
A pirate may not receive any loot if they did not contribute significant damage to an enemy.
Sometimes an enemy leaves no loot at all. Don't be disappointed.
Healers to also get loot if the pirate they heal defeats an enemy.
Types of Loot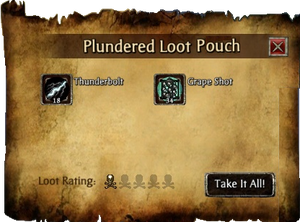 Game Notes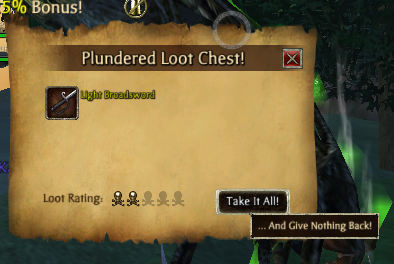 Community content is available under
CC-BY-SA
unless otherwise noted.