This is an Official Player's Guide from the Pirates Online Website.
All credit goes to Pirates Online. This is merely a resource guide.
Chat with your mateys using the Chat interface at the bottom left of the screen. If your chat setting is Open Chat , type your own message by pressing Enter to activate the chat window, type your message, and then press Enter again to send your message.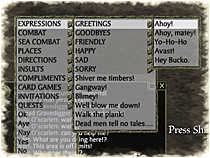 Speedchat
A history of your Pirate's interactions appear in your Chat Log, also found at the bottom left of the screen. As you explore the Caribbean, your conversations will be recorded as they happen. Check back here for information someone told you, if you can't remember it right away.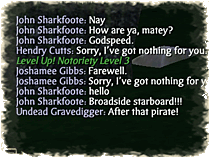 SpeedChat scrolling log.
Chat Channels
At the bottom left of the screen, you will find three buttons: Local, Guild, and Crew. These are Chat Channel buttons that will allow you to quickly communicate with those groups of Friends you belong to.
Your Compass is your constant guide and sentry. Not only will it orient you to the four quarters of the map -- the small bronze "N" always points North -- it will reveal the proximity of friends and foes. NPCs (Non-Player Characters) appear in green, foes in red, other players are in blue. You can widen or narrow the scale of the area the Compass shows by clicking on the + or - buttons. If you are in a cave or jungle, white rectangles indicate where the nearest exit lies.
A vital feature of the Compass is the large yellow arrow that appears when you pursue a Quest. This arrow always points in the direction of your Quest objective.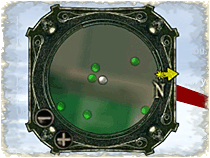 Compass

Game Tip:
If you're not sure where to find the person or place you need for a Quest, search the skies for a ray of light. It will guide you to your next destination.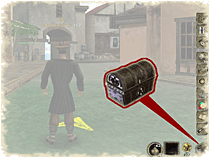 Sea Chest
Clicking on the Tab key or the Sea Chest icon in the lower right corner of the screen gives you access to your inventory and a host of features including your:
Community content is available under
CC-BY-SA
unless otherwise noted.