This is an Official Player's Guide from the Pirates Online Website.
All credit goes to Pirates Online. This is merely a resource guide.
Setting Up Your Account –– Basic vs. Unlimited Access Pirates of the Caribbean Online offers two types of game access, Basic Access and Unlimited Access.
Basic Access is free of charge, offers limited weapons and skills, and has restricted access to high-level player areas.
Unlimited Access requires a monthly subscription, and allows certain privileges that Basic Access players miss out on including: advanced weapons and skills, expanded quests, bigger and better ships, the ability to create your own pirate Guild , and more.
For more information, check out the Membership Options page.
Creating a Pirate
Before you start playing Pirates of the Caribbean Online, you'll need to create a Pirate. Nearly every aspect of your Pirate's appearance can be customized to your taste. Each Basic Access account can hold up to two different Pirates, while each Unlimited Access account can hold up to four.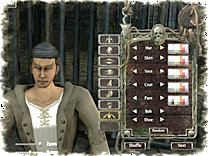 Customize Your Pirate
Choose a Name
Use the selection of Pirate names to customize your own name, or if you want to type your own custom Pirate name, click Type a Name, then enter the name you would like to use in the text box. That name will be reviewed and, if approved, will become your Pirate name. You will be assigned a temporary Pirate name to use while your custom name is being reviewed.
Locking a Pirate
By default, any Pirate can be played by anyone logging in to one of your family's accounts. If you want to create a personal Pirate that no one else can share, simply Lock your Pirate on the main Pirate section screen. After you've done this, only that Pirate's creator or an account administrator can play or unlock that Pirate.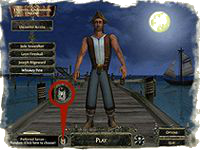 Locking Pirates
Community content is available under
CC-BY-SA
unless otherwise noted.