General Darkhart is an Undead Raider Boss leading the undead in Las Pulgas on Padres Del Fuego. He is one of four Generals the pirate has to overcome to complete the Taboo Doll quest as well as him being the hardest to defeat. He is escorted by other skeletons, varying between Undead Gypsies, Undead Raiders, Undead Slashers, and Undead Executioners.
Darkhart is quite possibly the most commonly killed boss due to the belief that there is a higher than average chance of him dropping Famed and even Legendary weapons (like the Lost Sword of El Patron and Silver Freeze). He is the only place to find Jack Sparrow's Blade.
Threat
Most all pirates should exercise caution when approaching him as he is dangerous.
Location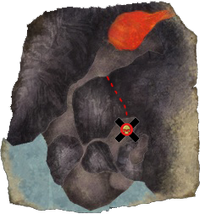 Game Notes
General Darkhart will always respawn in the same location at Las Pulgas.
Before Padres was remade, General Darkhart was found near a cabin in Las Pulgas surrounded by minions, while other skeletons would be fighting Navy soldiers.
Darkhart is rated "Most Favorite Boss" at piratesonline.com.
Tips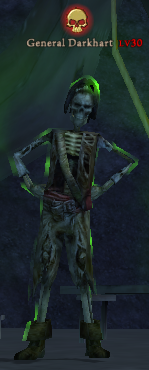 Darkhart's weakness is ranged weapons (guns, throwing knives and staff). If a pirate stands far enough back (at the blacksmith or gunsmith), he will only respond with throwing daggers. However, if he is attacked with a melee weapon (sword, dagger) or a voodoo doll, he will pursue his attacker.
Darkhart is like other Undead Raiders and suffers from a glitch where he sometimes pulls out his sword and does not attack at all. This glitch can be purposely activated, it is great for leveling grenade.
Many pirates often form crews to easily overwhelm Darkhart to more quickly loot him for Rare or Famed items.
Rumors of Darkhart being the source of many rare items means a lot of pirates seek him out. You may find yourself having a lot of company when you locate him. Otherwise, you may have to change servers to get him all to yourself.
Community content is available under
CC-BY-SA
unless otherwise noted.