Gabriel the Perjurer is an Undead Mutineer Boss who has been seen in Governor's Garden, Tortuga Graveyard, Murky Hollow, Wicked Thicket, and King's Run.
He attacks with basic dagger skills
The term 'perjurer' refers to someone who lies in court. Perhaps Gabriel betrayed a fellow pirate in court or lied about his own crimes to escape Earthly punishment.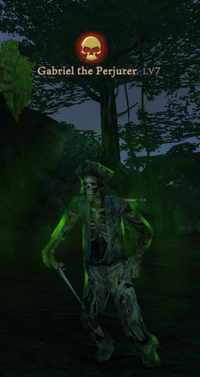 Community content is available under
CC-BY-SA
unless otherwise noted.