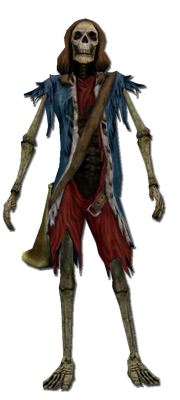 The
French Undead Capitaine
can be found on
Isla Cangrejos
or the
High Seas
. These
skeletons
attack the pirate with deadly fencing skills. They use a foil instead of a
cutlass
.
These were French captains that died and are now in service of Jolly Roger; they are the most powerful French undead soldiers.
On land, they appear at Levels 25-30 (Health 2,250-2,750), with the exception of Jacques le Blanc, who is always seen as a Level 35 boss.
Bosses
Game Notes:
Originally, the Captaine and the French Lieutenant were switched and the Lieutenant had the ability to use Voodoo Doll hexes.
The French Undead Capitaine was briefly named French Undead Boss, but the name was revised with the addition of Jacques le Blanc.
On flagships, they have been spotted at Levels 25-41!
Community content is available under
CC-BY-SA
unless otherwise noted.