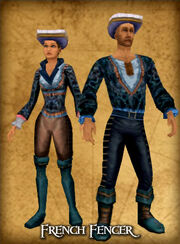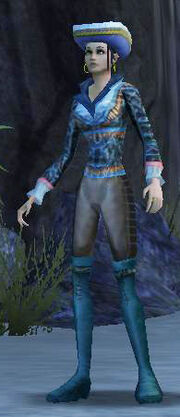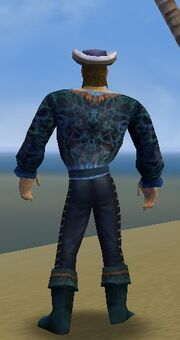 French Fencer is a matching outfit offered for purchase by the Peddlers on the main islands Padres Del Fuego, Cuba, Port Royal, and Tortuga. Peddlers offer clothing that will only be available for a limited time. Because of this, it is a good idea to buy the clothing as soon as possible. This outfit was released on the Test Server on October 2010, but was released on the live servers on October 2011. Peddlers began to sell them shortly after they robbed them from trading ships that were anchored off of Ile d'Etable de Porc. The outfit was additionally leaked the morning of October 1st, and again in the evening on October 23rd.
Complete Outfit (Female): 5,400 gold.
Complete Outfit (Male): 6,200 gold.
In-Stock Dates (POTCO): October 2011, December 2011, October 1st 2012, October 23rd 2012, August 24th 2013
In-Stock Dates (TLOPO): None
Female
Male
Community content is available under
CC-BY-SA
unless otherwise noted.