Note: This article refers to content from a seasonal event, which usually reoccurs once every year.

Each 4th of July week, amazing fireworks can be seen in the night sky, just off the shores of Port Royal, Tortuga, Padres Del Fuego, and on a ship off the coast of the aforementioned islands. Of course, Independence Day wouldn't actually be created for nearly another three decades or so since at this point, the United States were still just the American Colonies.
Instead, this holiday is said to celebrate the independent spirit of the Caribbean buccaneers who defy living under the cruel oppression the EITC and Royal Navy!
Since the fireworks were provided by Chinese merchants, a bright, colorful, and vibrant outfit called Snapdragon is available for a limited time.
"
Legend claims, pirates from the Far East invented fireworks, which; once ignited, shoot into the skies and explode in a cascade of bright colorful lights and sparks.
"
 

— POTCO Grog Blog

Music
Below is the soundtrack played during events with Fireworks.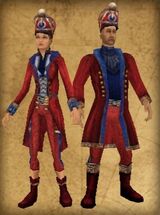 Peddler Clothing
In Pirates Online, the Snapdragon outfit was available at Peddlers during the Fourth of July holiday. The Legend of Pirates Online added a new outfit called Fourth of July for both male and female pirates sporting a red, white and blue color theme for the holiday to replace it.
Game Notes:
The Fireworks can only be seen at nightfall, which occurs near the top of each hour.
Community content is available under
CC-BY-SA
unless otherwise noted.