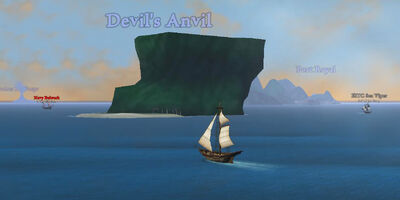 Below is the soundtrack that is played while on Devil's Anvil.
Devil's Anvil is a small, rocky island between Port Royal and Tortuga whose shape roughly resembles that of a giant blacksmith's anvil (a large iron tool for working metal that a blacksmith uses to beat the metal). This island is where Captain Hector Barbossa and his pet, Jack the Monkey, reside. It is currently the safest wild island in the game, because the most low-level enemies are found here, despite the Rock Crabs.
It is believed to be rarely visited besides by beginning players, because Devil's Anvil can cause bad luck. Some say people have visited this isle and never came back. However, players 1-5 like to come here and battle, and others like to beat down crabs until they find a boss, and some people come here for quests.
Barbossa gives new pirates their first pistol and teaches them how to use it. He also talks to them about pirate vs. pirate (PvP) combat, and using the cursed Aztec coins to keep from dying. It is similar to the Isla de Muerta, and could possibly have been based on it. Barbossa's Grotto (the island's cave) also has an Infamy Rewards merchant, Leon Warhawk.
Areas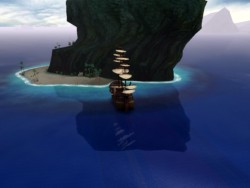 Barbossa's Grotto - This treasure-filled cavern is Hector's sanctuary.
High Seas - The waters around this island are mostly light craft patrolling around Port Royal or Tortuga.
Characters
This small isle is almost completely deserted.
Enemies
A handful of small critters scuttle around the beach area. Mostly, they are an annoyance to visiting pirates, or good target practice.
Bosses
Dig Spots
| | |
| --- | --- |
| | |
| Digspot #1: Lays at the foot of a tall tree in the center of the island. | Digspot #2: Lies on the left side of the island. It is close to a large rock form. |
| | |
| --- | --- |
| | |
| Digspot #3: Lies on the left side of the island right next to a large rock form on the left side of the island | Digspot #4: Lies in the center of the island close to a dinghy and some trees. |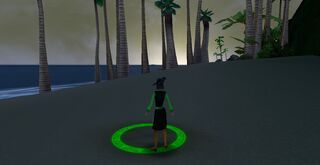 Digspot #5: Lies on the right side of the island close to a large group of trees.
Community content is available under
CC-BY-SA
unless otherwise noted.