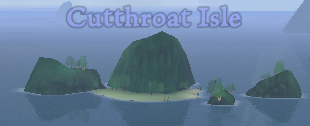 Below is the soundtrack that is played while on Cutthroat Isle.

Once inhabited only by a legion of ill-tempered crabs, the island is now home to Jolly Roger's growing army of the undead. Here you'll find undead Brigands, Witchdoctors, and Pirates, as well as undead Spanish Banditos, Conquistadors, and Captains. But tread carefully, they're well- armed and have only evil intentions.
Cutthroat Isle is a foreboding, dreary island of death. A great number of medium-level of undead inhabit the island. At one time, every kind of Undead Skeleton was known to be found here (except French Undead). Since then, Jolly must have moved a significant number of his forces elsewhere. However, this is still a very deadly place for beginning pirates.
Recently, forces under command of Garcia de Avaricia have built cemeteries for their soldiers. So, now Spanish Undead roam the beach and jungle and there are Spanish ghost ships circling the island.
Hint - Ghost flagships give fairly good plunder and aren't as hard to fight as Royal Navy or EITC heavier warships.
Areas:
Beach [1] - The sand is crawling with more undead than you can shake a stick at, including new cemeteries for Spanish sailors, who refuse to stay in the grave. Strangely, other than the Spanish Undead, only the Undead Duelists are roaming the beaches.
Cutthroat Jungle [2] - Inside Cutthroat, there are many, many low-level and medium-level Undead Spanish along with many Undead Slashers and Grenadiers. Stumps had once haunted the Jungle.
Spanish Graveyards
During the struggle between France and Spain, graveyards have been built on the beach and in the jungle area. But, like other lost souls in Jolly Roger's reach, these didn't stay at rest long.
Enemies:
Undead
Spanish Undead
Bosses
Digs / Special: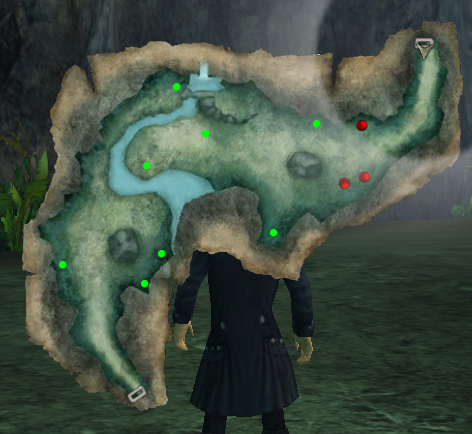 Green Dots = Dig Spots
Quests:
Skeleton Infestation - The pirate will be sent here to help reduce the number of Spanish undead roaming around.
Game Note
There used to be every kind of Undead skeleton known on the beaches and in the jungle. There also used to be many creatures including Stumps and Alligators. It is unknown why the game creators removed all the creatures and most of the Undead, possible to make the island a Spanish Undead - only settlement. There may be plans in the future for an all Undead island.
Community content is available under
CC-BY-SA
unless otherwise noted.