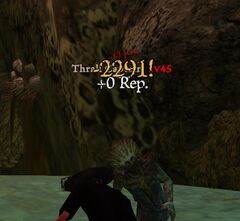 Critical Strike is a special ability found on many different weapons. It gives the pirate a low chance to deal double damage with an attack (Skill or Combo) with that weapon. This is assuming that the pirate has managed to hit their enemy with a superior blow or a more precise hit to cause greater damage. Some Cannon Items grant the ability of performing a critical strike with a specific ammo type. Unlike regular attacks where the damage appears in red, the Critical Strike appears in bigger yellow numbers with an exclamation point at the end. Critical Strike is a passive weapon skill, and does not need to be activated, happens at random.
This skill can be very useful to get the upper hand in PvP battles and boss battles.
Weapons
The following weapons have the Critical Strike ability:
Shark Blade Cultass Group
Masterwork Broadsword Group
Community content is available under
CC-BY-SA
unless otherwise noted.