A pirate without a ship is like a ship without a rudder, considering that the act of piracy is the theft of or theft onboard ships.
To that end, Shipwrights are the men and women who build and maintain the many pirate and privateer vessels that plow these waters. They can be found on all the main islands and privateer islands.
Visiting a Shipwright

Shipwrights are located in the most unique and noticeable structures; an upended ship's hull right on the beach.
To talk to a shipwright, just approach their counter and press SHIFT.
An interactive menu will appear. Just click on what you wish to do.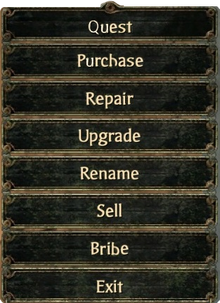 Quest - If the Shipwright has a quest for you, this option will be available, otherwise it will be grayed out.
Purchase - Buy a new ship. If you have the maximum number of ships, this option will be grayed out.
Repair - Fix up your leaky ships. If all your ships are fully repaired, this option will be grayed out.
Upgrade - Improve your full-size or war class ship's hull, sail color, sail emblem and rigging.
Rename (TLOPO Only) - Give your old ship a new name from the Ship Name Menu.
Sell - Sell off an old ship (at a greatly reduced sale price).
Bribe - If you need to grease the shipwright's palm as part of quest. If you have no current quest, this option will be grayed out.
Shipwrights of the Caribbean
On the shore of the main islands, the shipwright's stand can be clearly seen as the large, upright ship's bow. Some new shipwrights have also set up shop right by the water.
(*Can be found in the open near the docks, without a Shipwright Building)
Buying a Ship
All pirates start with a Light Sloop. But, other classes of vessel are made available as the pirate's Sailing skill increases.
Game Note - In the original Pirates Online, Free-to-Play players could only have Light Class Ships.
Just pick the ship of your choice, as long as you have the gold and skill.
Type of Ships
| Ship Class | Max. Crew | Armor | Sails | Max. Cargo | Cannons | Broadsides | Skill Req. | Cost | Picture |
| --- | --- | --- | --- | --- | --- | --- | --- | --- | --- |
| Light Sloop | 3 | 2,400 | 800 | 3 | 2 | 6 | 1 | 100 | |
| Light Galleon | 6 | 3,600 | 1,100 | 7 | 4 | 10 | 1 | 300 | |
| Light Frigate | 8 | 4,200 | 6,000 | 5 | 8 | 10 | 1 | 800 | |
| Light Brig | 8 | 3,900 | 5,500 | 8 | 6 | 10 | 1 | 900 | |
| Sloop | 6 | 4,200 | 800 | 6 | 4 | 10 | 5 | 1,000 | |
| Galleon | 8 | 7,200 | 1,400 | 11 | 8 | 18 | 5 | 3,500 | |
| Frigate | 10 | 8,400 | 1,400 | 9 | 10 | 14 | 5 | 5,000 | |
| Brig | 10 | 7,800 | 8,000 | 12 | 10 | 16 | 5 | 7,000 | |
| War Sloop | 9 | 7,200 | 1,000 | 9 | 8 | 14 | 15 | 20,000 | |
| War Galleon | 10 | 10,800 | 3,100 | 18 | 10 | 24 | 15 | 40,000 | |
| War Frigate | 12 | 12,600 | 2,600 | 12 | 14 | 20 | 15 | 60,000 | |
| War Brig | 12 | 12,000 | 11,000 | 16 | 12 | 24 | 15 | 80,000 | |
Naming Your Ship
Once you've picked your ship, you will be prompted to christen it with a name. Just pick a first and last name from the two lists.
Or if you're not too particular, just click Random to mix and match.
Then, click Submit.
Prefix Names

Amazing
Amethyst
Annoying
Arrogant
Awful
Barnacle
Bilge
Black
Blade
Blistering
Blue
Bold
Bothersome
Bounty Hunter
Broken
Buccaneer
Burned
Charred
Coral
Crimson
Cuddly
Cunning
Cursed
Cute
Cutthroat
Dancing
Dark
Dark-blade
Dark-sail
Dark-water
Dark-wind
Dastardly
Deadly
Death's
Defiant
Destroyed
Divine
Draconic
Drunk
Drunken
Emerald
Enchanted
Fighting
Final
Fire-sail
Flightless
Floundering
Fortune
Freebooter
Fugitive
Galactic
Ghostly
Glittering
Gold
Golden
Green
Gun
Gunwale
Hateful
Haunted
Headhunter
Heavenly
Heavens
Immortal
Imperial
Intrepid
Iron
Joyful
Lady
Laughing
Legendary
Liar's
Lightning
Lord
Loud
Lousy
Lovely
Lunar
Merry
Midnight
Moonraker
Morning
Mystical
Mythic
Noble
Obsidian
Ocean
Ol'
Onyx
Orange
Outlaw
Rage
Raging
Ravager
Red
Relentless
Reliable
Renegade
Riptide
Ruby
Rum
Sapphire
Savage
Savvy
Scallywag
Scarlet
Sea
Seething
Shadow
Silent
Silver
Siren
Skysail
Smiling
Sparkling
Star-chaser
Stealth
Storm
Storm-sail
Sun
Superb
The
Tide
Time
Topaz
Ugly
Umbral
Unbound
Unknown
Unsinkable
Unwavering
Useless
Vagrant
Vicious
Victory
War
Wave
White
Wicked
Wind-racer
Windjammer
Wonderful
Yellow

Suffix Names

Abyss
Albatross
Andromeda
Angel
Assassin
Avenger
Banshee
Bat
Blizzard
Bounty
Brig
Brigand
Bull
Cadaver
Captain
Cat
Champion
Chariot
Cobra
Comet
Conqueror
Crab
Crest
Crook
Crow
Curse
Cutter
Dancer
Defender
Defiance
del Fuego
Deliverance
Demon
Despoiler
Destroyer
Disciple
Dog
Dragon
Dream
Duchess
Duke
Eagle
Eclipse
Eel
Emerald
Emperor
Empress
Enchantress
Executioner
Explorer
Fable
Fairy
Falcon
Fire
Firelight
Fish
Forager
Fox
Freedom
Frigate
Fury
Galleon
General
Glory
Goddess
Griffin
Guardian
Hatred
Hawk
Horizon
Hunter
Inferno
Jewel
Killer
King
Kitten
Kitty
Knight
Lady
Leader
Legend
Leopard
Leviathan
Light
Lion
Lord
Love
Maelstrom
Manta
Mariner
Melody
Mercenary
Mermaid
Minnow
Mongrel
Moonracer
Myth
Navigator
Nemesis
Odyssey
of Doom
Parrot
Patriot
Phantom
Phoenix
Pillager
Plunderer
Prince
Princess
Privateer
Queen
Rage
Raider
Ransom
Rapscallion
Raptor
Raven
Reaper
Reaver
Rebel
Reliable
Rescuer
Revenge
Rogue
Rose
Ruby
Ruler
Runner
Sabre
Sapphire
Scar
Scimitar
Scorpion
Seafarer
Serpent
Shadow
Shark
Sloop
Song
Soul
Spirit
Squid
Stallion
Star
Starfire
Starlight
Stone
Strider
Sultan
Swan
Tempest
Thief
Thorn
Thunder
Tide
Tiger
Titan
Treasure
Trident
Tsunami
Twister
Umbra
Valkyrie
Vampire
Viking
Vindicator
Voyager
Warrior
Wave
Widow
Witch
Wolf
Wraith
Wrath
Renaming a Ship
In The Legend of Pirates Online, a feature was added to allow pirates to rename their ship.
Select the Rename Option from the Menu.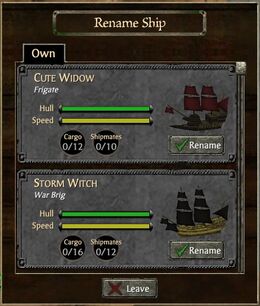 Select the Ship to Rename. Then, select the new name from the original Ship Name menu. Click Submit.
The Shipwright will prompt a reminder that Rename comes at a cost.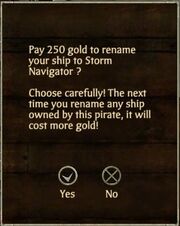 The prices for Rename are similar to the costs a Trainer charges to reset your skills. So, while trying to keep the Navy guessing where to find you, the price will go up.
First Rename - 250 gold
Second Rename - 2,500 gold
Additional Rename - 10,000 gold
Selling a Ship
At some point, a pirate may outgrow an old ship, need some quick gold, or want to trade up. From the Options Menu, click Sell - then select from your ship menu. The game will ask if you're sure that you wish to sell. Then you will sell the ship for half the price that you bought it for (you will not credit for any Ship Customization).
Once a ship is sold, it must be re-purchased at full price. Shipwrights don't haggle.
Sell Price
| | |
| --- | --- |
| Class | Gold |
| Light Sloop | 50 |
| Light Galleon | 150 |
| Light Frigate | 400 |
| Light Brig | 450 |
| Sloop | 500 |
| Galleon | 1,750 |
| Frigate | 2,500 |
| Brig | 3,500 |
| War Sloop | 10,000 |
| War Galleon | 20,000 |
| War Frigate | 30,000 |
| War Brig | 40,000 |
Repairs
Pirates always seem to bring their ships back with torn sails, cannonball holes, fire damage - you name it. Shipwrights are the quickest place where a vessel can be repaired. After all, you want it done fast, take it to the experts.
Note - Always best to check your ship's health before departure. Repairing is much cheaper, than salvaging a wreck.
From the Options Menu, select Repair. Your ships will be listed, showing the ship's damage status. Click Repair. A pop-up will show how much it will cost in gold to fix your ship or salvage a sunken one.
Note - If you do not have enough gold, you CANNOT do a partial repair.
If the vessel is perfect condition, the Repair button will be grayed out.
Ship Customization
Pirates can choose to Customize their ship at the upgrade menu from any shipwright. Players can change their sail color, and put an emblem on their sail. Players are also able to have special Hulls and Rigging, that can only be upgraded if the player has a certain amount of resources and gold.
Shipwright Quests
Often, a shipwright will ask a pirate to perform a Fortune Quest for them - with gold rewards for their efforts.
Darby Drydock initially sends the pirate on quests for materials for a ship he's building. Also, several shipwrights offer the Caribbean Struggle quest for Ship PvP.
Mini-Games
Shipwrights offer pirates a chance to earn some pocket money repairing vessels for them. Stationed around each Shipwright stand are three repair tables, marked with signs. These signs indicate the difficulty of the repairs needed.
Each table allows the pirate to practice their ship repair skills. There are five games to challenge a Shipwright-in-Training
The Repair Mini-game Menu will appear. To complete repairs, the pirates must finish all the challenges:
Once the jobs are complete, the ship's hull and sails will be repaired. The pirate will be told what their total time was and the amount of gold they earned. The game will reset as another ship pulls up for repairs.
The pirate can press ESC at any time to stop repairing.
Removed Ship Types
On the Test Server, six new ships, the Ship of the Line, the EITC Warlord, the Undead Cerberus, the Phantom, the Revenant, and the Navy Kingfisher, were briefly added for purchase before being removed. Later, the game developers explained that this was a mistake and was never intended for release.
Trending pages
All items (9)