These merchants can play a song for you, for a few gold coins. You can spot them by the beamed note above their heads. Not all townspeople who play instruments are musicians for hire.
Visiting A Musician
Musicians can be found in several taverns on several of the main islands. To talk to the musician, just walk up to him and press 'Shift'. A menu of his repertoire will appear. Select the song you want to hear and the pirate will be charged the price in gold.
Musicians
Special Events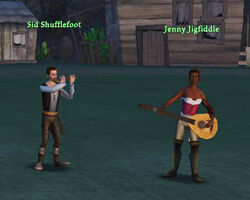 These musicians only appear on Tortuga during special events.
Sid Shufflefoot**

Game Note - Though they all play an instrument, these musicians are not for hire.
Play Me a Tune
Songs currently available:
Scatter The Gulls
Married To The Sea
The Old Chariot*
The Piper and the Piano*
The Sailor's Horizon*
(*Added to The Legends of Pirates Online)
Additional songs can be earned playing the Pirates Online Cannons of the Deep MOBILE game. But you no longer can earn these songs because Cannons of the Deep got discontinued.
Merchant's Folly
Prepare To Cast Off!
During Winter Holidays there are 2 songs available.
Caribbean Holiday
Ballad of a Buccaneer
Music
| | | |
| --- | --- | --- |
| | THIS ARTICLE OR SECTION IS UNDER CONSTRUCTION! | |

Below is a playlist of all the different songs offered by the Musicians while inside a Tavern.
Driftwood Island
Isla Cangrejos
Outcast Isle
Scatter The Gulls
Married To The Sea
Merchant's Folly
Prepare To Cast Off!
Cutthroat Isle
Kingshead
Rumrunner's Isle
Holiday Music
During the Christmas Holiday Event, Musicians have special music that they offer to play. Listen to it below.
Ballad of a Buccaneer
Caribbean Holiday
All items (16)
Community content is available under
CC-BY-SA
unless otherwise noted.