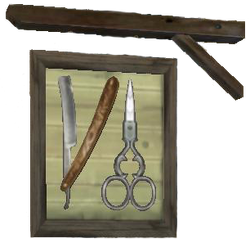 Barbers can be found the main islands (Port Royal, Tortuga, ,Padres Del Fuego and Bilgewater). These skilled artisans give pirates new hairstyles and hair colors.
Visiting A Barber
To change your pirate's hair, just locate a barber shop. They can be identified by the Barber Sign over their door. Also, look for the Scissors symbol on the main island map (F8).
Just approach the door and press Shift.
Once inside, walk to the barber and press Shift again. A list of available hairstyles will appear. You can preview the style, by clicking the image of the style. Once you find the one you want, click Buy. You can also get a dye job and change hair color. Hair colors are: Light brown, brown, blond, dark blond, light red, red, black, and white. (See Color Bar below)
Note: You can not change your hairstyle or hair color unless you have unlimited access.
Barbers
Hair Styles
Color
All hair styles are available in the colors below. There were originally eight hair colors available in Pirates Online, plus green hair offered during the St. Patrick's Holiday Event.
The island of Bilgewater has a selection of unique colors as well.
Female Hair Styles
Who says a lady buccaneer can't look her best when she goes out to plunder?
Short barrette
Short barrette haircut
Short barrette haircut
Small bun with bangs
Medium haircut with bun
200 Gold
200 Gold
200 Gold
250 Gold
300 Gold
Medium haircut with barrette
Short barrette with bangs
Short barrette haircut with bangs
Small bun with long bangs
Short barrette with long bangs
300 Gold
300 Gold
300 Gold
300 Gold
350 Gold
Short layered haircut
Long top ponytail
Long layered haircut
Medium haircut with long top ponytail
Long top ponytail with bangs
400 Gold
500 Gold
500 Gold
500 Gold
600 Gold
Long top ponytail with long bangs
Barrette with Long Braided Ponytail
Barrette with Long Braided Ponytail and Bangs
Barrette with Long Braided Ponytail and Long Bangs
700 Gold
750 Gold
800 Gold
850 Gold
Male Hair Styles
Male pirates can also choose from a variety of mustaches and beards. The facial hair and head hair can be mixed up in any combination.
| | | | |
| --- | --- | --- | --- |
| | | | |
| Shaved | Balding | Short, smooth front | Short, raised front |
| 100 Gold | 200 Gold | 200 Gold | 200 Gold |
| | | | |
| Ponytail, smooth front | Ponytail, raised front | Short Top Ponytail, smooth front | Short Top Ponytail, raised front |
| 250 Gold | 250 Gold | 300 Gold | 300 Gold |
| | | | |
| Short Top Ponytail, shaved | Mullet, smooth front | Mullet, raised front | Mohawk |
| 300 Gold | 300 Gold | 300 Gold | 500 Gold |
Beards
Shaved
Thin goatee
Short beard with mustache
Muttonchops with mustache
100 Gold
200 Gold
250 Gold
300 Gold
Medium goatee
Thin Sideburns
Short goatee with soul patch
Long beard with mustache
300 Gold
300 Gold
400 Gold
500 Gold
Long hanging goatee
Sidechops
Long braided beard
500 Gold
500 Gold
750 Gold
Mustaches
Shaved
Regular
Walrus
Pencil
100 Gold
200 Gold
200 Gold
200 Gold
Fu Manchu
Handlebar
Curly Handlebar
300 Gold
500 Gold
750 Gold
All items (5)