Captain Bo Beck
Who

Occupation

Ship Captain
Where

Island Name

Rambleshack
Bo Beck is a small-time captain of a light sloop, the Grim Reaper out of Rambleshack. Beck made a deal with Jolly Roger to deliver the imprisoned Captain Jack Sparrow to him when Jack made his escape from the Rambleshack jail.
Betrayal
But, Jack offered Bo more money and Beck went with the higher bidder. He was told to deliver someone else... in this case the player's pirate.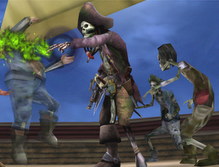 It would cost him dearly. When Jolly Roger caught up to him, he turned Beck into a skeleton of the undead, while the player pirate witnesses.
His final fate is unknown, but likely now he does the bidding of Jolly. As far as we can guess, he will not walk this world as a human again.
Community content is available under
CC-BY-SA
unless otherwise noted.