The Brethren Feast Weapon Giveaway took place in November 2012 on the weekend following Thanksgiving. It is very similar to the Haunted Hunt For Ghostly Gifts. The Game Masters could be found on Padres Del Fuego, Port Royal, Cuba, Kingshead and Tortuga.
Note: For all basic access members, the Game Masters also gave out crude weapons that can be found in loot.
Weapons Given Out
Game Masters that Appeared in the Event
Screenshots of the Event
News Posts About the Giveaway on the Grog Blog
November 20th - Thankful GMs Celebrate Pirate Victories
After a hard-fought October protecting these islands as a united buccaneer brethren, it's time to claim yer well-deserved victory.
From November 20 through November 25, gather yer mates and Guilds to make merry on the shores of Tortuga! The grand bonfires standing on Tortuga beach mark well that we Pirates will always stand our ground against all foes.
The bonfire lighting begins each day at 4pm (Pacific Standard Time).

Once the bonfires are ablaze, take a break from dancing to feast on the fire roasted pork.
This tasty treat acts as a powerful tonic to get yer Pirate's health shipshape in no time.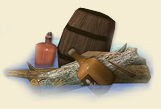 What: Pirate Victory Celebration
When: Nov. 20 through Nov. 25.
Bonfires light daily at 4pm until 10pm (PST)
Where: Shores of Tortuga
This weekend (Friday through Sunday), the Marceline Guild GMs will be making the rounds to give thanks to Pirates too… by handing out Famed weapons to those they find! Hard-to-loot items like the Great Hawk Sabre, Brigadier's Broadsword, Seven Seas Cutlass and Repeater, and Assassin's Throwing Knives are all possibilities.
Basic Pirates, this means you too!
Marceline GMs have crude weapons only found in loot drops for you to equip also.

WHAT: Marceline GMs Give Thanks
WHERE: The Large Islands
WHEN: Friday, Nov. 23: 12 – 1 pm (PST), Saturday, Nov. 24: 12 – 1 pm (PST), Sunday, Nov. 25: 3 – 4 pm (PST)
MARK THIS WELL:
You must have open space in yer Weapons Inventory to accept a GM's gift!
Give thanks for each other and enjoy yer victory celebration, mates!
Community content is available under
CC-BY-SA
unless otherwise noted.