Note: This article refers to content from a seasonal event, which usually reoccurs once every year.
As Jolly Roger's invasions continue to occur on Port Royal and spread to the other main islands (Tortuga and Padres del Fuego), the pirates hold a celebration to honor those who fought bravely to protect the citizens of the Caribbean. This is known as the Brethren Feast.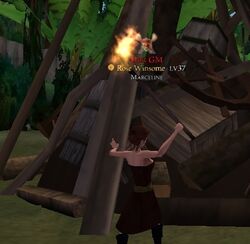 During this time, bonfires appear on Tortuga, including the Pork fire pits, which can return all of the user's health (Only 5 pieces of pork could be taken at a time). Pork makes a chewing sound instead of a gulping sound when using it but still looks like a regular tonic.There used to be a cool glitch where if you ate the pork and then quickly took out your sword, your sword would look like the pork. In addition, the Thanksgiving outfit can be bought from peddlers at this time.
Event Dates
2009
The first was held during the weekend of November 25th-29th 2009 in honor of the pirates who fought to defend Port Royal but also to prepare for the impending invasions of the island Tortuga.
2010
It happened again on November 25th-29th in 2010. See Gathering of the Guilds Feast for more information.
2011
This event occurred again during November 23rd - 27th. The 2011 event was celebrated for battling hard against Jolly Roger, Bounty Hunters, curses and renegade ghosts. It offered activities such as:
Raids - Stock up on pork tonics to go clean out more enemies in the Tortuga Graveyard or Rat's Nest.
Ship Racing - Be the first to race your ship from Tortuga around Devil's Anvil once and then land at Port Royal.
2012
The event returned again in 2012, with the usual Bonfire and Roast Pork. However, in addition to the usual festivities, Marceline GMs went around the main islands giving out famed weapons to players. The event lasted from Nov. 20 - Nov. 25.
Test Dates
2011
The event occurred November 16th-18th of 2011.
2012
The event occurred November 1st-30th of 2011.
Game Notes
The feast is Pirates Online's way of acknowledging the Thanksgiving holiday since it was not established as a historic holiday during the 1600-1700's.
Community content is available under
CC-BY-SA
unless otherwise noted.