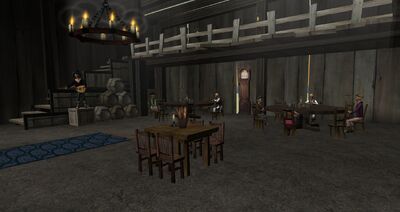 Bowman's Dinner Theatre was opened by Ben Bowman to function as a Meetup Location for player pirates.
Bowman was once a circus performer before becoming a pirate and dreamed of returning to his life on the stage. Now, with his ill-gotten gains he has purchased this theatre to perform as a Musician and give pirates a place to interact and relax.
The spacious theater has a stage with a curtain, large seating area, a food table and even an upstairs balcony area. Roberta Roberts, sister of Thatch Roberts, also tends bar here.
To reach the Dinner Theatre, select Lobbies by pressing 'L' or from Sea Chest menu. Then, choose Adventures, and finally Meetup.
Once teleported here, the player can invite friends, crew and guild mates to join them. To exit, simply use the Exit door to return to your last Port of Call.
Interior
The building itself is quite spacious with a large number of tables and chairs. There a stage with a curtain on the far corner. Along the walls are various tables of food and drink, provided to guests.